Antecedents: Princely Collection Albums

From 1660 until the early 1800s, the most impressive paintings collections were known through spectacular albums of prints, or Galeriewerke, sometimes made by the finest printmakers in Europe. The first of these books was Theatrum Pictorium (1660), which reproduced 243 paintings from the collection of Archduke Leopold Wilhelm, and was a precursor to the museum catalogue. For collectors, reproductions of their paintings collections advertised their exceptional taste. By gifting such costly volumes to other courts, they measured themselves against competing collectors and centers of power.

Collectors allowed publishers to copy their paintings and produce these albums. In return, the collector received an agreed upon number of volumes. Their production was a costly collaborative enterprise. Artists were first hired to reproduce original compositions at a reduced scale; the compositions were then transferred onto copperplates, which were engraved or etched by a printmaker. The publisher, often an artist, would hope to make a profit by selling the remaining albums.

The image at right is from a volume of illustrations reproducing the extensive collection of the Hapsburg emperors in Vienna. The densely packed fictive gallery wall includes many paintings formerly in the collection of the emperors' ancestor, Archduke Leopold Wilhelm. The prints in this volume express the Hapsburg emperors' eclectic taste for Flemish, Dutch, Italian, and German pictures.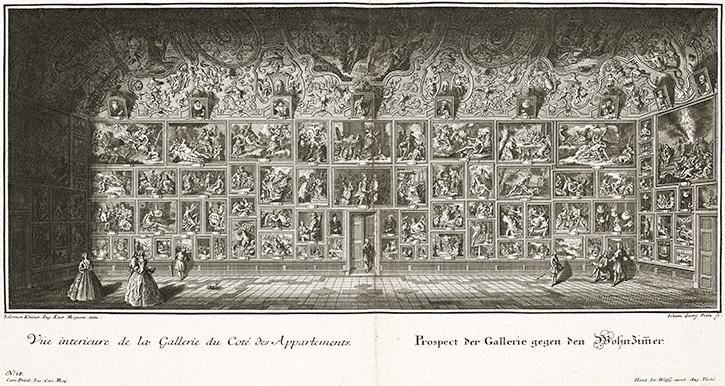 The image above represents the Baroque tradition of covering an entire wall with paintings. This display contrasts with the one at Düsseldorf installed after 1763, where more space is left between the paintings. The images of large-format prints seen below were created for the kind of collection album described above.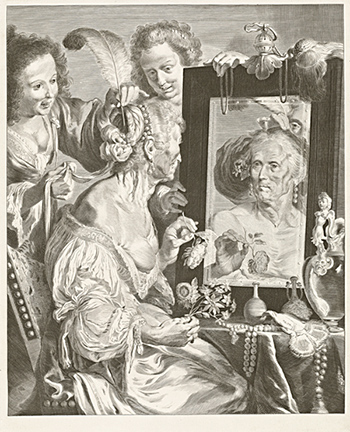 This print was intended for an album replicating the paintings collection of Amsterdam merchants and collectors Gerard Reynst (1599–1658) and Jan Reynst (1601–1646). Gerard, intending to direct and pay for the entire volume, brought noteworthy engravers from throughout Europe to Amsterdam for the project.
While only 33 prints were made before Gerard's death halted the endeavor, the quality of printmaking in the completed images shows that the album promised to be an unprecedented achievement.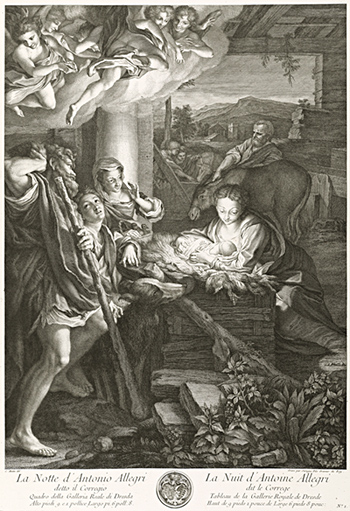 This print was created for a two-volume catalogue of 100 prints that reproduces the most important paintings in the Dresden collection of Augustus III (1696–1763), king of Poland. Augustus wanted his magnificence to be reflected in the scale and quality of the prints, which he intended to be both faithful reproductions of masterpieces as well as artistic engravings.
Over 10 draftsmen and close to 50 printmakers from throughout Europe were enlisted to create the preparatory drawings and corresponding prints. The great print curator Karl Heinrich von Heinecken (1706–1791) compiled and edited the albums; he almost went bankrupt because of his obsessive quality control.