Krahe's Enlightened Display


The Flemish, Dutch, and Italian Schools and Rubens
Krahe introduced a completely new and modern system of organizing paintings. His aim was to create a pedagogical display that educated viewers in the art-historical principles of the different schools. In the Düsseldorf gallery, the schools were primarily limited to Flemish, Dutch, and Italian examples, as well as works by the master Peter Paul Rubens, who constituted a virtual school in his own right.
Below is a small selection of drawings made under Krahe's direction by artists in the Düsseldorf Academy, of which Krahe was the director. The drawings were supposed to be used by printmakers, who would transfer the compositions onto large copperplates from which reproductive prints could be made and sold. The expense of making these drawings almost bankrupted Krahe, and his project was never finished.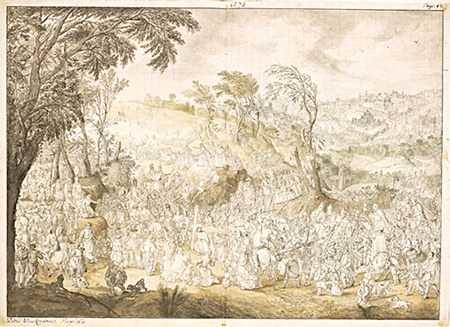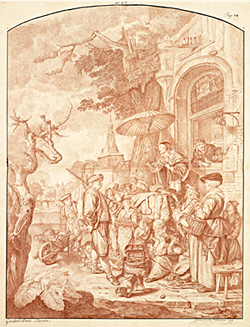 Comparing Dutch Masters: Rembrandt & Van der Werff
In the Van der Werff room, the Passion of Christ cycle (1633-1646), by Rembrandt van Rijn (1606-1669), and the much more extensive Miracles of the Rosary cycle (1703-1714), by Adriaen van der Werff (1659-1722), were hung together to illustrate the difference between painterly work and "fine painting." This juxtaposition contrasted two distinct stylistic tendencies within the Dutch school, in this case, Rembrandt's realism and Van der Werff's classicism. The Düsseldorf catalogue underscores this distinction, praising Rembrandt's ability to capture "the exact truth in nature" and van der Werff's balanced, magnificent, and precise renderings.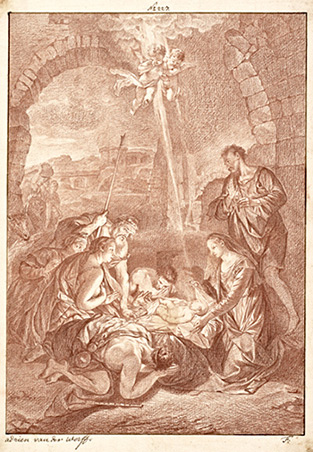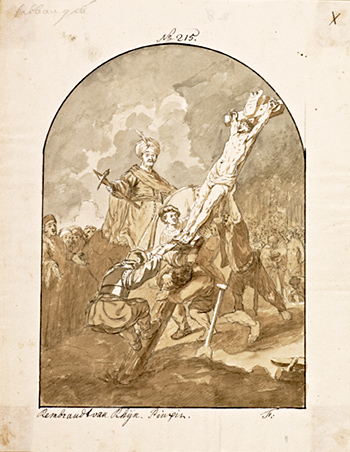 The comparison is also implied in the way the copies were drawn; those after Van der Werff are finely articulated red chalk drawings, while the wash drawings after Rembrandt capture the mood of the dramatically lit compositions. This comparison elevated Van der Werff, Johann Wilhelm's esteemed court painter, to the level of Rembrandt, the incomparable Dutch master.