<! -- Format is 1 --> <! -- Format is 1 1 -->
Celebrate and discover the art and exhibitions at the Getty Museum in events designed to inspire the whole family. Events are offered year-round and are always free!
<! -- Format is 1 --> <! -- Format is 1 1 --> <! -- Col is 0 -->
<! -- Format is 1 --> <! -- Format is 1 1 -->
Featured Events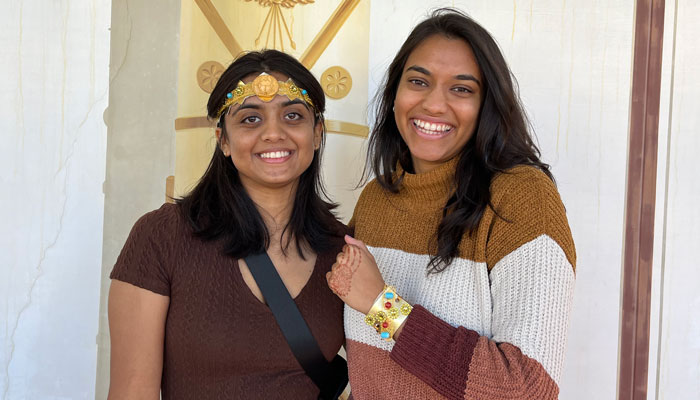 Nubian Jewelry: Family Workshop
Select Saturdays
Beginning October 22, 2022
11:00 a.m.–3:00 p.m.
Getty Villa


Make your own crown and royal regalia inspired by ancient Nubian designs with artist Marcus Kuiland-Narvario. Travel back in time to the Central Nile Valley, discover the precious materials used to make the magnificent jewelry worn by Nubian royalty, and embellish your creation with amulets meant to protect the living and the dead.

This free, drop-in program complements the exhibition Nubian Jewelry: Splendors of Ancient Sudan From the Museum of Fine Arts, Boston.


<! -- Format is 1 --> <! -- Format is 1 1 --> <! -- Col is 0 -->
Getty @ Home
Spark creativity, joy, and imagination with these hands-on projects inspired by Getty art. Ideal for children ages six to twelve.

Find a fun project to start! »
Family Festivals
Family festivals offer a day of celebration and discovery inspired by exhibitions at the Getty Center and Villa. Each unique festival features performances by local dance and music groups, storytelling, art-making workshops, and gallery activities.

Festivals are held on weekends in the summer.
Garden Concerts for Kids
Garden Concerts for Kids is a free outdoor music series for kids and their families in the Getty Center's Central Garden featuring some of the best children's musical artists from across the nation.

Please feel free to bring a picnic blanket, but lawn chairs are not allowed.

Concerts occur on weekends in August.
Workshops and Demonstrations
Enjoy presentations of historical art-making techniques related to the Museum's collection and exhibitions. Meet artists, ask questions, and get close to the action during these free, drop-in programs for visitors of any age.

These programs are held throughout the year on weekends.
Planning a Visit
Heading to Getty with your family? From Art Detective Cards to Audio Tours, or simply enjoying the gardens, there are plenty of things to see and do on-site during your visit!

Visit the Center »

Visit the Villa »