Urban Conservation Planning in Southeast Asia
Old Cities, New Challenges
A Course for Urban Conservation in Southeast Asia
November 13–21, 2020
Penang, Malaysia
IMPORTANT UPDATE
In light of the current uncertainty over the COVID-19 outbreak, course organizers are closely monitoring the situation in Malaysia, Southeast Asia, and in the home countries of course instructors. There are currently no plans to cancel the course, which will be held November 13-21, 2020.
However, due to the uncertainty, we are suspending our application process until such time that we believe the course can be held safely while still providing applicants sufficient time to organize themselves to attend.
Those that have submitted their application at the time of this notice do not need to reapply.
The course will only be held when the risk from COVID-19 is considered safe by relevant health authorities. Should there be a need to postpone the course, it will be rescheduled to a later time based upon the COVID-19 circumstances.
This is a rapidly evolving situation and predicting what the status will be in November is not possible. The safety of our participants, instructors, and staff are our top-most priority, and we will continue to be guided by local health authorities to ensure any decisions made are in the best interests of those attending the course and others that will interact with them.
We will continue to monitor the COVID-19 situation closely and base any future decisions on guidelines issued by the Malaysian Ministry of Health and the World Health Organization.
For questions, please contact OCNC20@getty.edu
Old Cities, New Challenges 2020 (OCNC20) is the second in our series of courses for urban conservation in Southeast Asia presented in collaboration with Think City.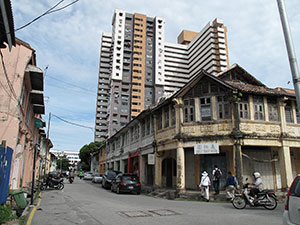 The course's primary objective is to improve urban conservation practices in Southeast Asian cities by providing participants with a fuller understanding of conservation methodologies and effective, practical tools and techniques for the conservation of historic places in urban contexts. The curriculum for this course derives, in part, from our previous courses in the region.
Course Content
The course will be highly interactive—formal presentations will be complemented by group discussions and exercises at historic sites in Penang. A values-based approach to heritage conservation will be emphasized. Participants will share their experiences regarding heritage conservation challenges in their respective cities.
Topics to be addressed include:
Examination of international approaches, including Historic Urban Landscape (HUL)
Documentation of tangible and intangible heritage assets, including cultural mapping
Defining cultural significance of historic places, resulting in a statement of significance
Heritage economics, related to cultural capital and sustainability
Infill development in historic areas
Goals, strategies and components of an urban conservation plan, resulting in participants' drafting a plan for a specific site
Instructors
An experienced team of mentors will share their practical expertise related to the conservation of historic places in urban contexts.
Course Director
Jeff Cody, Architectural historian and Senior Project Specialist, Getty Conservation Institute
For questions, please contact OCNC20@getty.edu
*Download Adobe Acrobat Reader
Page updated: March 2020