Wall Paintings Conservation at Mogao Grottoes
The project methodology and results are being disseminated through a variety of means, including conferences, publications, and public lectures to extend knowledge and good conservation practice at other similar sites. Emphasis was also placed on training a new generation of wall painting conservators, analytical and environmental scientists, and documentation personnel.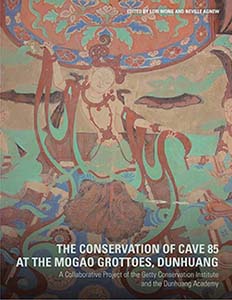 Dissemination
Two international conferences on the conservation of ancient sites on the Silk Road have been coorganized by the Dunhuang Academy and the Getty Conservation Institute at the Mogao Grottoes. The first
International Conference on the Conservation of Grotto Sites
was held in October 1993 (prior to the Cave 85 project) and followed the completion of the first phase of the collaboration between the Academy and the Institute. This conference (and its
proceedings
) focused on site-related issues including site stabilization, research into the causes of deterioration, development of innovative techniques to control windblown sand, treatment of thin-roofed caves, monitoring of environmental conditions and site management.
The
Second International Conference on the Conservation of Grotto Sites
, held in 2004, presented results of the present phase of the collaboration with a panel session of eight papers on the Cave 85 project, in addition to papers from an international group of specialists that emphasized a holistic approach to the conservation management and study of sites.
A number of
general publications
on the project currently exist. Comprehensive results of the project are published in the
proceedings of the 2004 conference
. A
monograph
of the entire project was published in 2013.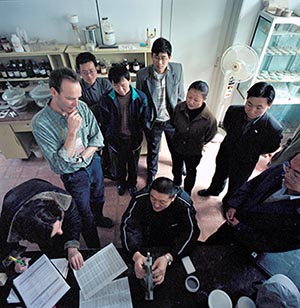 Training
Training has been an important component of the GCI and Dunhuang Academy collaboration in Cave 85. On an annual basis advanced training for Dunhuang Academy staff members has taken place through periods of work at the GCI.
As part of the Cave 85 project, the GCI, the Dunhuang Academy, Lanzhou University, and the
Courtauld Institute of Art
worked together to develop a three-year masters degree course in wall painting conservation based at a the Mogao Grottoes. China has considerable teaching resources in the sciences and other related disciplines but does not yet have a tradition of professional education in conservation. The course covers all aspects of conservation and includes students from universities across China. Conservators who participated in the Cave 85 project supervise the teaching. This provides an integrated education in which theoretical teaching (by Courtauld Institute of Art and both Lanzhou University and Dunhuang Academy staff) is applied in a closely supervised context that encourages the development of individual skills and critical judgment.