XRF Boot Camp for Conservators (2013–2020)
2013 Workshop
Yale University
November 5-8, 2013
The first Boot Camp was co-organized by the Getty Conservation Institute and the Yale Institute for the Preservation of Cultural Heritage.
Twenty participants from around the world, including Singapore, Qatar, Japan, Norway, Ireland as well as the United attended the four day workshop, which took place at Yale's Center for Conservation and Preservation and the Yale University Art gallery.
The first three days of the workshop provided in-depth training in the principles of X-ray fluorescence spectroscopy and the collection and interpretation of data, and focused primarily on qualitative analysis and the use of handheld instrumentation.
Workshop instructors paired interactive lectures with hands-on instrument use, data processing and interpretation and illustrated the study of cultural heritage collections with examples from Yale University's collections.
The fourth day of the XRF Boot Camp was dedicated specifically to the analysis of painted surfaces, focusing on the common challenges faced by conservators of paintings, objects and works on paper when dealing with multilayer coatings on a variety of substrates.
Instructors
Maggi Loubser, Group Chief Chemist, PPC Cement Ltd., South Africa
Alexander Seyfarth, Senior Global Product Manager for Handheld XRF, Bruker AXS
Chris McGlinchey, Sally and Michael Gordon Conservation Scientist, Museum of Modern Art, New York
Anikó Bezur, Wallace S. Wilson Director of Scientific Research, Yale Institute for the Preservation of Cultural Heritage
Karen Trentelman, Senior Scientist, Getty Conservation Institute
Lynn Lee, Assistant Scientist, Getty Conservation Institute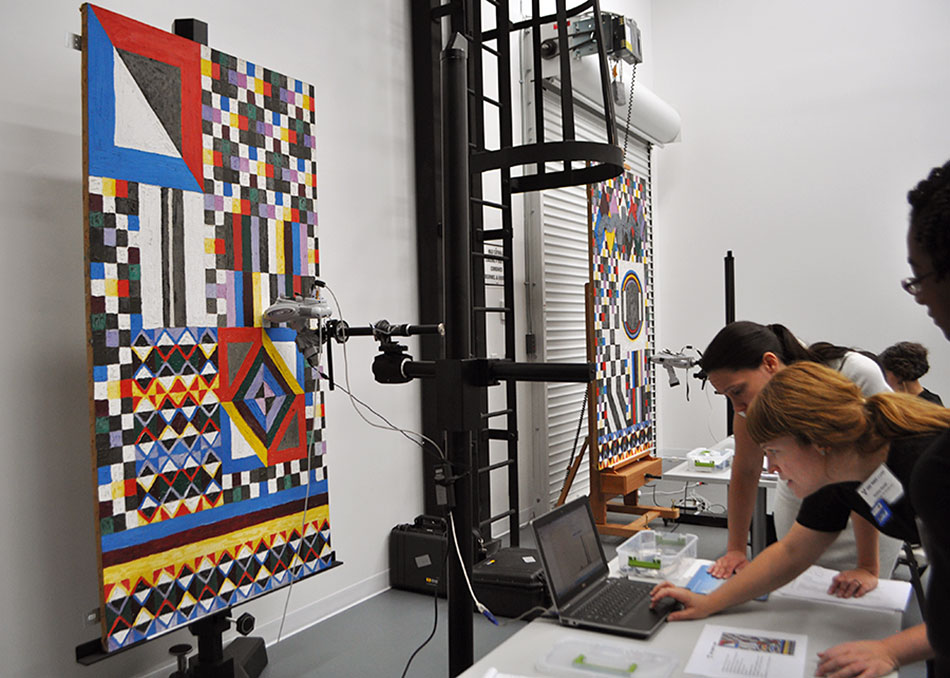 Using XRF to analyze panels from the Title Makers, an oil painting series by Alfred Jensen. Left: To Aim and Excel, right: Lost, Entanglement, and Survival. Yale University Art Gallery collection.
Page updated: May 2014