Recent Advances in Characterizing Asian Lacquer
Ateliergebouw, Amsterdam
May 15–19, 2017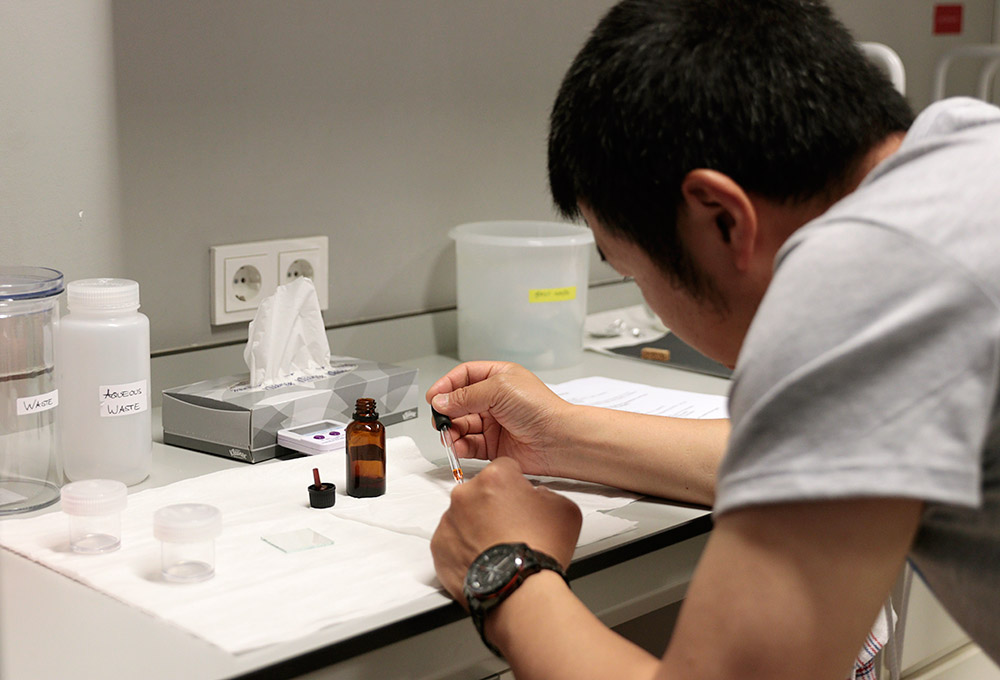 Participant staining a sample in preparation for visible and fluorescent light microscopic examination. Photo Stephanie Auffret.
From May 15 to 19, 2017, eighteen conservators and scientists attended the fourth lacquers workshop, which was hosted in Amsterdam in the laboratories of the Cultural Heritage Agency of the Netherlands (RCE) and the Rijks Museum.
The five-day workshop explored newly developed analytical procedures for acquiring detailed compositional information about Asian lacquers, their additives, and their European substitutes. During the workshop, conservators and scientists worked in pairs to study and discuss historic lacquer samples brought from their own collections and presented their findings on the last day of the workshop. Additionally, guests speakers presented on related topics such as Asian lacquer treatment and research projects as well as analytical techniques complementary to the ones taught during the week.
The workshop included substantial hands-on work to prepare and analyze samples using both low- and high-tech methods and in depth training to interpret the results. Instruction during the week focused on the following procedures, with the aim of identifying traditional and non-traditional materials in Asian lacquers:


Visible and fluorescent light microscopic examination of chemically-stained lacquer cross-sections which can provide visual, layer-specific information for a number of organic materials.
Precision sample collection of discrete lacquer layers which permits layer-specific compositional information to be obtained.
Pyrolysis-gas chromatography/mass spectrometry with thermally-assisted hydrolysis and methylation (TMAH-Py-GC/MS); a versatile method with excellent limits of detection.
A systematic protocol for data analysis and interpretation using AMDIS (Automated Mass spectral Deconvolution and Identification System) and Excel, with a shared marker compound database that permits detection of a broad range of marker compounds even when present at trace levels.
The concepts taught in the workshop may also be applied to the study of materials other than lacquer.
Instructors
Michael Schilling: Senior Scientist and head of Materials Characterization Research at the Getty Conservation Institute, specializing in GC/MS and thermal analysis techniques

Arlen Heginbotham: Conservator of Decorative Arts and Sculpture at the J. Paul Getty Museum, specializing in the technical examination of furniture

Nanke Schellmann: independent conservator and researcher at SchellmannConservation in Munich, specializing in the conservation and analysis of mixed media objects and the characterization and treatment of degraded decorative surfaces

Herant Khanjian: Assistant Scientist at the Getty Conservation Institute, specializing in the detection and identification of organic media found in historical objects and architecture

Henk Van Keulen: Conservation Scientist at the RCE, senior specialist gas chromatography mass spectrometry
Venue
The Ateliergebouw (Atelier Building) is a center for restoration and preservation, scientific practice, research and education, where Dutch cultural heritage can be preserved and administered under the very best conditions. In the Atelier Building, the Rijks Museum, the Cultural Heritage Agency of the Netherlands, and the University of Amsterdam pool their knowledge of restoration and preservation. With this combination of research, teaching and practical application under one roof, this evolving center of expertise is unique, not only in the Netherlands, but worldwide.
Page updated: June 2017