2021 Workshop
Treating PMMA: Filling Scratches and Chips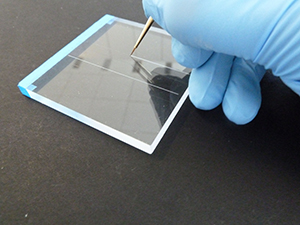 A Free, Live Virtual Mini Workshop
Offered on two dates:
March 2, 2021
March 4, 2021
The first online workshop dedicated exclusively to the treatment of PMMA, or poly (methyl methacrylate).
Workshop Length and Times
The workshop will run for a maximum of three hours. Specific workshop times will be announced after the selection of participants, to accommodate different time zones.
Workshop Instructor
The workshop will be led by Anna Laganà. Anna is a modern and contemporary art conservator and researcher specializing in the conservation of plastics.
Since 2016, Anna has been a Research Specialist for the Preservation of Plastics project, a component of the Modern and Contemporary Art Research Initiative. At the GCI, Anna leads various projects including the investigation of treatment options for plastics in collections and develops workshops on their conservation.
Overview
Since its introduction in the twentieth century, poly (methyl methacrylate) (PMMA) has become increasingly popular with artists and designers for its versatility, transparency, and ability to be shaped and colored.
Clear PMMA has been extensively used as an artistic medium to make sculptures and objects and also, since the 1980s, to face-mount photographs. PMMA is known to be prone to surface damages, such as scratches and chips, and this workshop will focus on their treatment.
Workshop Content
The mini workshop will combine both theory and practice. Theory will highlight the challenges that the conservation of PMMA poses and will discuss the approach used to investigate the suitability of materials and methods for the development of successful and safe surface treatments for this plastic. Practice will be dedicated to the preparation of resins and their use in the repair of scratches and chips on PMMA.
A presentation will be followed by practical sessions including demonstrations, hands-on exercise, and group discussions.
A kit with PMMA samples, a face-mounted photograph, brushes, steel pins, glass rods, mixing cups, and spectacle cloths will be sent to each participant to support the hands-on exercises.
Additionally, each participant will have access to a course website, which will include instructions for mixing resins and supporting literature. Videos demonstrating the treatment of scratches and chips will be made available to participants after the course, through the website.
Objectives
The workshop aims to provide conservators with the theoretical and practical tools to restore PMMA surfaces, including:
a brief introduction to PMMA and the research study on developing filling treatments;
fill materials, their preparation, properties, advantages and disadvantages;
gaining familiarity with different materials, tools, and application methods;
understanding the behavior of the selected resins during application; and
assessing the quality of the repairs.
This workshop is part of the Research into Practice Initiative, which seeks to facilitate the practical application of new research to conservation problems.