Twentieth-Century Color Photographs: Contemporary Practice, Identification, and Preservation
August 7–11, 2017
The Getty Villa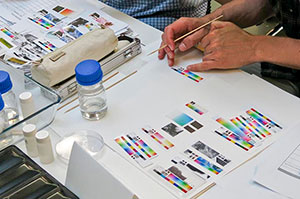 The second workshop in the annual series Current Issues in Photograph Conservation will be held August 7–11, 2017 at the Getty Villa in Pacific Palisades, California.
From the first invention of photography, there was a desire to capture colors. However, it was not until the early twentieth century that the first color processes were commercially available and by the 1960s, sales of color film surpassed those of black-and-white. Color photographs have been present in our everyday lives for the past fifty years and whether created as a means of artistic expression, as personal mementos, or to capture historic events, they are an important part of the cultural and artistic heritage of the twentieth century.
The arrival of digital recordings in the late twentieth century and its overwhelming popularity in the twenty-first century marked the declined of silver halide photography. Now, more than ever, it is important to examine and understand the evolution of color photographic materials before the technologies, records of its processes and production are lost. Conservators who are called upon to preserve these materials need guidance in correctly identifying the different processes, understanding the deterioration mechanisms, and the preservation needs of these materials.
Workshop Description
The workshop aims to provide participants with the theoretical and practical basis to:
identify silver halide based color photographic processes
recognize and understand the needs of these photographic materials
prioritize the conservation needs within their collections
communicate with institutional colleagues on collection priorities
decide on and perform conservation treatments on these materials if necessary
The workshop will include lectures, demonstrations, identification exercises, and hands-on treatments practicum designed by the instructors to apply and test the different approaches. To reinforce the identification exercises, participants will have the opportunity to view color photographs from the collection at the J. Paul Getty Museum. Sample prints will be provided for identification and treatments. Evaluation of identification techniques, treatment applicability and effectiveness will be carried out through group discussions at the end of each day.
Principal Instructors
Sylvie Pénichon, Senior Conservator, Department of Photography, The Art Institute of Chicago
Tram Vo, Project Specialist, Getty Conservation Institute, Los Angeles
Janka Krizanova, Head of Conservation and Restoration Department, Academy of Fine Arts & Design, Bratislava, Slovakia

Page updated: March 2017