Valley of the Queens (2006–2011)
Tomb Stabilization and Protection
Unlike the Valley of the Kings, the geological stratigraphy of the Valley of the Queens has undergone faulting and slumping. This means that the horizontally deposited strata comprising the Theban limestone and marls were tilted during slumping in the Pliocene-Pleistocene period.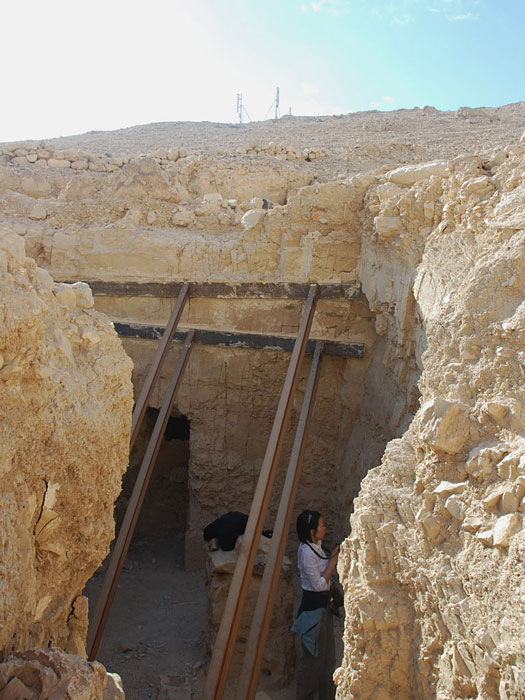 Chamber tomb QV 34 collapsed in antiquity and has suffered structural damage and loss of painting. Communication towers seen on the ridge line above are a visual intrusion at the site.
Consequently, excavation of the tombs occurred at the base of a massive tilted block of the lowermost stratum of the Theban Formation. This is particularly true on the south side of the main wadi, where all the tombs are excavated into lower strata comprising clay-rich marl.
Clay minerals in the marl swell on wetting, and over the 3,000-plus years since their original excavation, the tombs have been subjected to periodic flash flooding. On drying, the clays shrink, leading to rock collapse in tombs and extensive damage with loss of original wall paintings. Because of tilting and consequent fracturing of the rock layers, veins of gypsum, anhydrite and halite, resulting from percolation of ground water, are also prevalent throughout most of the tombs.
As in the tomb of Nefertari, disruption, due to cycles of crystallization and dissolution of salt, has damaged tomb wall paintings.
Bats of several species have also contributed to the deterioration and defacement of paintings and many tombs are inhabited by colonies. These colonies comprise a health threat (histoplasmosis and possibly rabies) to people who venture into tombs that are or have been colonized.
Condition assessments were undertaken on the fifty-seven 18th-Dynasty shaft tombs and the thirty-four 19th- and 20th-Dynasty chamber tombs in the main Valley, including their geological and hydrological context.
Many tombs require engineering interventions, such as shoring and re-creation of collapsed ceiling, as well as exterior protection in the form of constructed entry arches and shaft covers. Plans have been fully developed for stabilization and protection of all ninety-one tombs in the main Valley and involve:

Geotechnical stabilization of chamber and shaft tombs (including engineering, plugging of shafts, and reburial, as needed)
Exterior tomb protection (retaining walls and arched covers for chamber tombs; changes to entries; localized flood control measures at or near tomb entrances)
Fabrication and installation of new doors for chamber tombs and protective covers for shaft tombs; refurbishment of useable existing doors
Removal and relocation of bats to selected shaft tombs