Stories in Stone: Conserving Mosaics of Roman Africa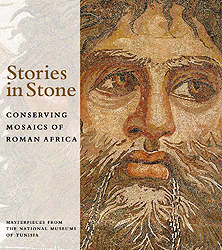 Edited by Aïcha Ben Abed; 2006
Between the second and the sixth centuries of the common era, elaborate mosaics were designed and created to pave the floors of town homes and rural estates of the Roman settlements in North Africa. These stunning mosaics were especially widespread in the colony of Africa Proconsularis, modern-day Tunisia, and covered a wide range of subject matter, from scenes of daily life and classical mythology to abstract floral and geometric designs of rare vibrancy and complexity. A distinctive African style emerged, whose influence would extend throughout the Mediterranean basin and beyond.
This catalogue was published to coincide with an exhibition at the J. Paul Getty Museum at the Getty Villa October 26, 2006, to April 30, 2007—the first major exhibition in the United States solely devoted to ancient mosaics. The twenty-seven mosaics in the exhibition come from Tunisia's leading museums, including the Bardo Museum in Tunis, the Sousse Museum, and the El Jem Museum.
Stories in Stone is structured around four principal themes Nature, Theater and Spectacle, Myths and Gods, and Technique and includes extensive material on mosaic conservation. In addition to color plates of all objects in the exhibit, this catalogue includes nine richly illustrated essays that illuminate the historical background of mosaic art, trace the development of principal themes, and examine the conservation of mosaics both in the museum setting and in situ. Contributors include Taher Ghalia, director of the Bardo Museum; Mongi Ennaifer, minister of cultural affairs, Tunisia; Thomas Roby, senior project specialist, Getty Conservation Institute; and Jerry Podany, head of antiquities conservation, J. Paul Getty Museum.
Stories in Stone Playlist