AATA Online
A Free Research Database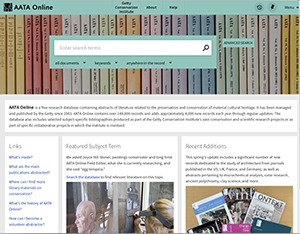 AATA Online is a free research database containing abstracts of literature related to the preservation and conservation of material cultural heritage. It has been managed and published by the Getty since 1983. AATA Online contains over 148,000 records and adds approximately 4,000 new records each year through regular updates.
Go to AATA Online (aata.getty.edu)
Read more about the history and development of AATA Online in this blog post on the Getty Iris.
AATA Online Features
What you will find:
abstracts from more than 180 journals and conference proceedings from the conservation field's essential literature (see the list)
abstracts from hundreds of other publications from heritage conservation and allied fields covering literature from antiquity to the present
abstracts categorized by discipline, technique, and materials (see the categories)
international coverage: publications from North and South America, Europe, the Middle East and Asia
subject-specific bibliographies developed for the Conservation Institute's work
What you can do:
advanced searching
link to select full-text resources
generate citations
export records
share records via email
save records and search history by session
AATA Online
does not
provide full texts or document delivery services for the publications abstracted
AATA Online People
Staff
Lynda Bunting, Managing Editor
Karen Karyadi, Assistant Editor
Amy Iwasaki, Library Assistant I
Cameron Trowbridge, Manager, Research Services

Contact: aata@getty.edu
Field Editors
AATA Online's field editors review abstracts, in their field of expertise, for technical language and relevance prior to publication. Current field editors (as of July 2021):
Thomas Chase, United States, since 1976
Marie-Claude Corbeil, Analytical Research Laboratory, Canadian Conservation Institute (retired), Canada, since 2004
Brian Egloff, Centre for Creative and Cultural Research, University of Canberra, Australia, since 2006
Robin Hanson, Cleveland Museum of Art, United States, since 2016
Françoise Hanssen-Bauer, Nasjonalmuseet for kunst, arkitektur og design (retired), Norway, since 2003
Joyce Hill Stoner, University of Delaware Program in Art Conservation, Winterthur Museum, United States, since 1986 (Managing Editor, 1969-86)
Lara Kaplan, University of Delaware Program in Art Conservation, Winterthur Museum, United States, since 2021
Marieka Kaye, University of Michigan Library, United States, since 2016
Priya Jain, Texas A&M University, United States, since 2018
Bertrand Lavédrine, Centre de recherches sur la conservation des collections, Museum national d'Histoire naturelle, France, since 2004
Ruth E. Norton, Field Museum (retired), United States, since 2004
Alice Paterakis, United States, since 2005
Lucia Toniolo, Dipartimento di Chimica, Politecnico di Milano, Italy, since 2019
David Woodcock, Texas A&M University (emeritus), United States, since 2008
Volunteers
While the Getty Conservation Institute is responsible for the publishing of AATA Online, we welcome the work of volunteer abstractors whose contributions supplement that of the AATA Online staff.
Learn how you can become a volunteer abstractor.
Related Resource
Conservation Collection
Much of the literature abstracted in AATA Online can be found in the Conservation Collection a collection of 55,000 titles on topics related to the science of preserving cultural heritage materials. Conservation Collection titles are available through the Getty Research Library.
Learn more and search this collection