Conserving Outdoor Sculpture: The Stark Collection at the Getty Center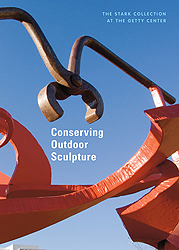 Brian Considine, Julie Wolfe, Katrina Posner,
and Michel Bouchard; 2010

Purchase a Copy
Find in WorldCat
When the J. Paul Getty Museum received twenty-eight sculptures created by a who's who of twentieth-century artists, it took on the responsibility for their preservation, interpretation, and long-term stewardship. Donated from the private collection of the late film producer Ray Stark and his wife, Fran, the sculptures thrust the Getty into the evolving field of outdoor sculpture conservation. To honor its responsibility, the Museum embarked on new research into the collection's materials—bronze, lead, ceramic, and painted metal—and construction techniques.
This book presents the conservators' comprehensive account of the process. Chapters are organized around phases of the project rather than individual sculptures and address key issues facing anyone charged with caring for works of art displayed outdoors, including: organization and planning; installation and grounds management; scientific analyses; collaborating with artists; structural issues; mounts, paint, coatings, and patinas; and long-term maintenance.
Related Getty Conservation Institute projects: Modern & Contemporary Art Research.