Twentieth-Century Building Materials: History and Conservation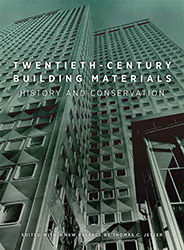 Edited with a new preface by
Thomas C. Jester; 2014

Read Online
Download PDF
Purchase a Copy
Find in WorldCat
Over the concluding decades of the twentieth century, the historic preservation community increasingly turned its attention to modern buildings, including bungalows from the 1930s, gas stations and diners from the 1940s, and office buildings and architectural homes from the 1950s.
Conservation efforts, however, were often hampered by a lack of technical information about the products used in these structures, and to fill this gap Twentieth-Century Building Materials was developed by the U.S. Department of the Interior's National Park Service and first published in 1995. Now, this invaluable guide is being reissued—with a new preface by the book's original editor.
With more than 250 illustrations, including a full-color photographic essay, the volume remains an indispensable reference on the history and conservation of modern building materials. Thirty-seven essays written by leading experts offer insights into the history, manufacturing processes, and uses of a wide range of materials, including glass block, aluminum, plywood, linoleum, and gypsum board. Readers will also learn about how these materials perform over time and discover valuable conservation and repair techniques. Bibliographies and sources for further research complete the volume.

How to Cite this Work
Jester, Thomas C., ed. 2014. Twentieth-Century Building Materials: History and Conservation. Los Angeles: Getty Conservation Institute. http://hdl.handle.net/10020/gci_pubs_20th_cent_building_materials.