Partnership with Sicily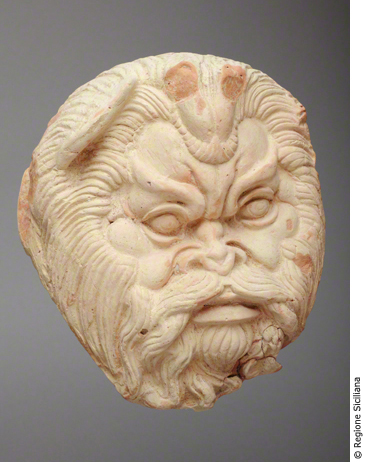 The exhibition
Sicily: Art and Invention between Greece and Rome
is a cooperative effort between the Getty and the Sicilian Ministry of Culture and Sicilian Identity. It is the latest in a series of such efforts arising from a 2010 agreement that calls for a number of collaborative projects, including object conservation, seismic protection of collections, exhibitions, scholarly research, and conferences.
Recent related projects include:
The 2010 loan of the Gela Krater, a monumental red-figured volute krater (wine mixing vessel).
The Agrigento Youth, a rare example of an early classical marble statue called a kouros (an idealized nude young man), loaned to the Getty from the Museo Archeologico Regionale in Agrigento (2010/2011).
The loan of 36 objects from the Sanctuaries of Demeter and Persephone at Morgantina (2012/January 2013).
Explore Sicily's Museums
Antiquarium di Himera
Museo Archeologico Regionale, Aidone
Museo Archeologico Regionale Antonino Salinas, Palermo
Museo Archeologico Regionale Eoliano Luigi Bernabò Brea, Lipari
Museo Archeologico Regionale, Gela
Museo Archeologico Regionale Paolo Orsi, Syracuse
Museo Archeologico Regionale Pietro Griffo, Agrigento
Museo Civico di Castello Ursino, Catania
Museo Civico F. Libero Belgiorno, Modica
Museo Mandralisca, Cefalù
Museo Whitaker, Mozia
Parco Archeologico dello Stagnone, Marsala
Parco Archeologico di Cava d'Ispica
Map of Sicily
This map of Sicily and the wider Mediterranean (inset) marks some of the sites mentioned in the exhibition.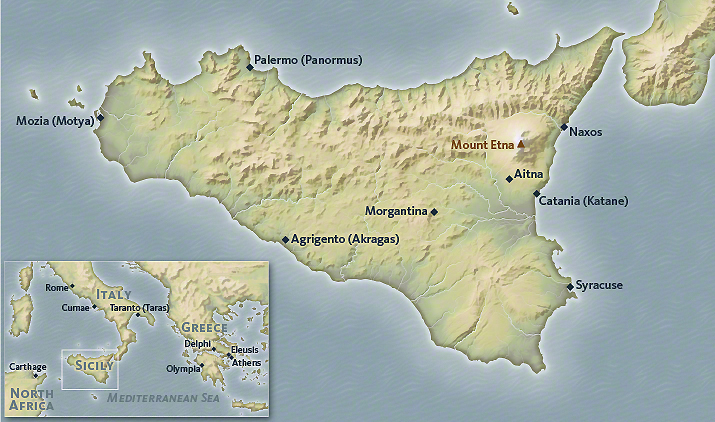 Publication

Related Information
Sicily on The Iris