Photography at the Bauhaus
The exhibition Lyonel Feininger: Photographs, 1928–1939 features a complementary selection of over 90 photographs from the Getty Museum's permanent collection made at the Bauhaus.
The Bauhaus was founded in 1919 in Weimar, Germany, by the architect Walter Gropius. Students entered specialized workshops after completing a preliminary course that introduced them to materials, form, space, color, and composition. Lyonel Feininger was one of the first masters appointed by Gropius.

The school moved to Dessau in 1925 and to Berlin in 1932, closing under pressure from the National Socialists in 1933.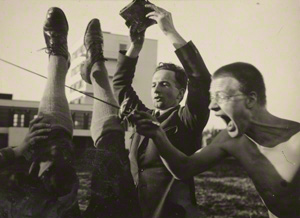 The Bauhaus Building as Stage
Walter Gropius's building in Dessau became an integral aspect of life at the Bauhaus. The camera recorded the architecture as the most convincing statement of Gropius's philosophy of uniting art, design, and technology with everyday life, and captured the fervor with which the students embraced this philosophy.

Tight framing, dramatic use of light and shadow, and unusual angles from above and below underscored the dynamism generated by the program. The campus's architecture was often incorporated into rehearsals and performances by the school's theater workshop.


Masters and Students
Bauhaus masters and students alike took up the camera as a tool for documentation and creative expression.

Photography served as a medium to record student life at the Bauhaus. In addition to the collaborative environment encouraged in classes and workshops, students found opportunities to bond during their leisure time, whether in a band that played improvisational music, in excursions to nearby beaches, parks, and fairs, or at Saturday-night costume parties.

One of the most active recorders of life at the Bauhaus was Lyonel Feininger's youngest son Theodore, nicknamed Lux, a student who also became a member of the jazz band.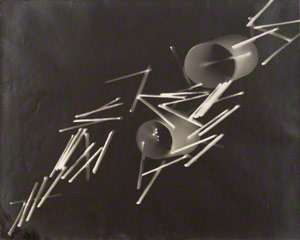 László Moholy-Nagy
At the Bauhaus, photography found active advocates in the figures of László Moholy-Nagy and his wife Lucia Moholy. Hired in 1923 to head the metal workshop and teach the preliminary course, Moholy-Nagy promoted photography as a form of visual literacy and encouraged experimental techniques of what he called a "new vision," which included dramatic camera angles, multiple exposures, negative printing, collage and photomontage (
fotoplastik
), the combination of text and image (
typofoto
), and cameraless photography (the photogram, made by placing objects on photosensitized paper).
Moholy-Nagy did not differentiate between commercial assignments and personally motivated projects; he used the same strategies in both sectors of his practice.
AUDIO: Hear more about Moholy-Nagy's experiments with light.
Update Required
To play the media you will need to either update your browser to a recent version or update your
Flash plugin
.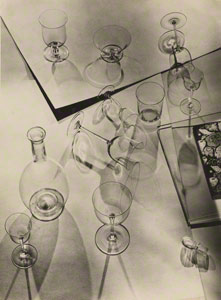 Walter Peterhans
A photography workshop was established at the Bauhaus in 1929, led by Walter Peterhans, a professional photographer and the son of the director of camera lens manufacturer Zeiss Ikon A.G. The three-year course of study included technical exercises as well as assignments in portraiture, still life, advertisement, and photojournalism.

In his own work, Peterhans created haunting still lifes and portraits that are at once straightforward and evocative. Titles such as Portrait of the Beloved, Good Friday Magic, and Dead Hare lend surrealistic overtones to the meticulous arrangements of richly textured, disparate objects that he photographed from above, resulting in ambiguous spatial relationships.

Publication

Museum Collection
Related Information