Pompeian Entertainments
Pompeii and Vesuvius inspired many forms of mass entertainment in the 19th and 20th centuries, including operas, pyrotechnic shows, popular music, and film.


An Operatic Spectacle
Giovanni Pacini's operatic extravaganza
L'ultimo giorno di Pompei (The Last Day of Pompeii)
, premiered in Naples in 1825. While its title resembles that of Edward Bulwer-Lytton's epic novel
The Last Days of Pompeii
(1834), the plot was entirely different, though it naturally climaxed with the eruption of Vesuvius.
Interactive Feature: See more of Carlo Sanquirico's set designs for The Last Day of Pompeii »
No expense was spared in simulating the volcanic event and the destruction of Pompeii in the final scene of the opera. Accounts of the original production, in Teatro San Carlo on November 19, 1825, describe how, as the music thundered, parts of the scenery shook violently; massive columns collapsed and broke apart, causing huge pieces of the vaulting to crash down. For the effects of fire, lava, and ash, a complex lighting system was developed, and large quantities of highly flammable powder were ignited at every performance. The opera became exceptionally popular and traveled to Milan (as seen here), Rome, Vienna, Paris, Venice, and London.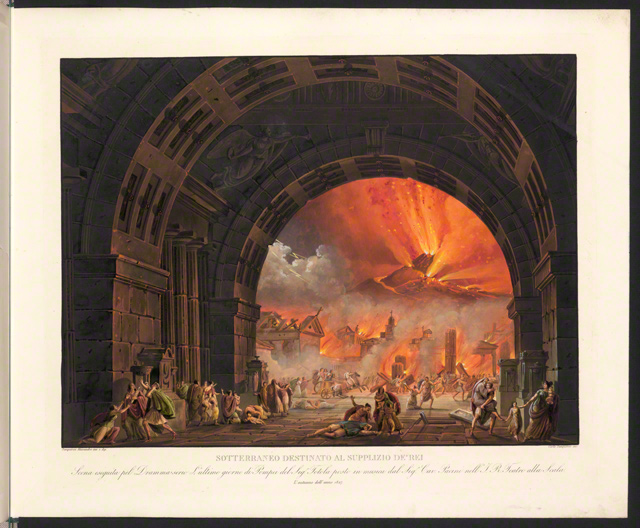 Pompeii on Tour
British fireworks entrepreneur James Pain produced highly popular Pompeian "pyrodramas" that originated in England and later toured throughout the United States and Australia. The performances strung together athletic, musical, and dance elements over a simple Vesuvian narrative familiar to all audiences.

Pain's pyrodrama was presented regularly at Coney Island in New York from 1879 to 1914. Captured here is part of an early 20th-century performance, with the arrival of the villainous character Arbaces from Bulwer-Lytton's The Last Days of Pompeii. The panorama reveals the scale of the collapsible sets of long-running productions; limited engagements depended more heavily on painted backdrops.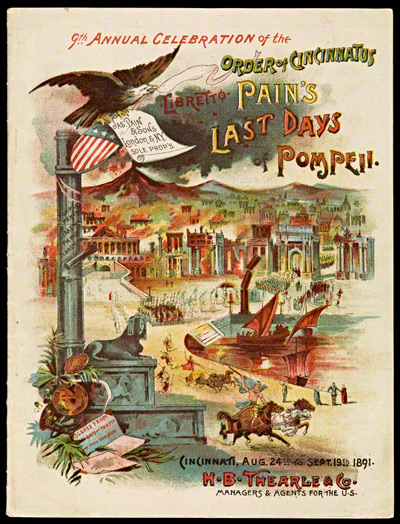 Pain staged his pyrodrama in at least 37 U.S. locations, including Los Angeles in 1905. This libretto comes from the pyrodrama's appearance in Cincinnati in 1891.

Pain required a sizable down payment to bring the spectacle to a city, usually for a one- to two-week run. Civic authorities had to build a multi-acre venue with a large body of water, a long platform, and seating for approximately 10,000 viewers. Efficient public transportation was also critical. The actors, however, were secondary, and local performers trained by Pain's staff played most roles.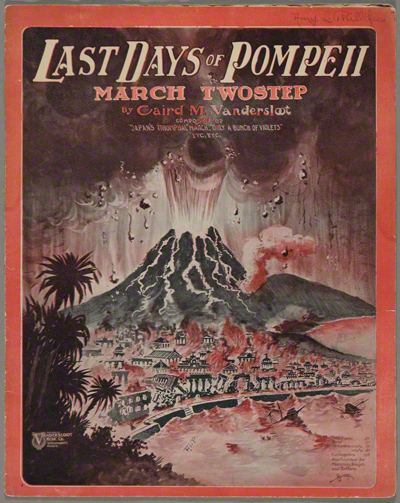 Volcanic Music
Bulwer-Lytton's novel The Last Days of Pompeii inspired not only theatrical productions and public spectacles but also musical works, such as this two-step march of 1904. A decade earlier, well-known American composer John Philip Sousa, also inspired by the book, had created a suite he considered his finest work.

Over the course of the 20th century, the catastrophe at Pompeii continued to influence popular musicians. Notably, the English rock band Pink Floyd performed in the amphitheater of the ancient city in 1971, recording both an album and a film.
Publication

Related Information