Frank Gehry Papers
An architectural acquisition of unparalleled scale among those held by international institutions, this archive is a comprehensive portrait of one of the most eminent architects practicing today and a unique scholarly resource for research into global architectural culture in the postwar era. Recognized for his innovative use of sketching, physical modeling, computer-aided design, and digital fabrication, Canadian-born, American architect Frank Gehry (b. 1929) has had transformative effects on architectural culture and design processes, as well as on the changing shape of the urban landscape.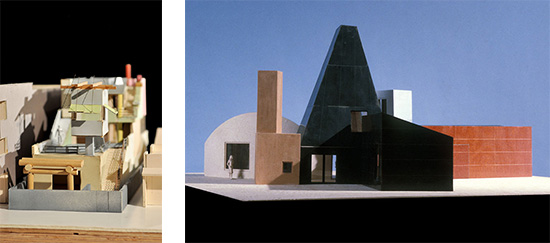 To date, Gehry has executed approximately 160 projects. He has been featured in four major museum retrospectives and countless smaller exhibitions, and he is the subject of considerable scholarly attention and innumerable publications. Acquired directly from Gehry's studio in Los Angeles, the archive encompasses all aspects of his professional practice from the period of his graduate studies to the 1988 competition entry for the Walt Disney Concert Hall, the success of which marked Gehry's entrée into a global architectural elite. The collection comprises approximately 120,000 working drawings, more than 1,000 sketches, 280 partial and complete models, project documentation, correspondence, more than 100,000 slides, and ephemera related to projects from the early years of the architect's practice. The materials pertain to 283 projects designed between 1954 and 1988, including some initiated during this period but completed after 1988.



The collection details important architectural trajectories during the decades that witnessed shifts away from high modernism to early postmodern vocabularies and then to high-tech and digital architectures. A key figure in this evolution, Gehry contributed essential concepts that put Los Angeles and particular visions of its built environment at the center of the global architectural discourse. During more than six decades of practice, Gehry's firm has built a number of important public and private buildings in America, Europe, and Asia, most notably the Walt Disney Concert Hall and the Danziger Studio in Los Angeles; the West Campus for Facebook in Menlo Park; the Weisman Art Museum in Minneapolis; the Guggenheim Museum in Bilbao, Spain; and the Fondation Louis Vuitton in Paris.



The Gehry archive provides a rich trove for architects, architectural historians, urban historians, scholars of visual culture, and artists. It adds a significant and complementary body of work to the Research Institute's robust holdings related to prominent 20th-century architects such as
Daniel Libeskind
and
Aldo Rossi
, as well as Southern California designers such as
Frank Israel
,
Pierre Koenig
,
Ray Kappe
, and
John Lautner
. In this respect, the archive represents a strategic opportunity to position the architectural collection at the Institute as a key resource for research into contemporary, global architectural practice.