Panoramas: The All-Embracing View

Panoramas were perhaps the most dramatic form of public entertainment in Europe and the United States during the early nineteenth century, transporting viewers to places and events distant in time and space.
The term panorama was first used by Robert Barker in 1792 to describe his painting of Edinburgh that he hung inside a circular building, creating a 360-degree view.
Paintings of exotic locales, highly detailed and rendered in accurate perspective, fed nineteenth-century interests in travel and exploration. These empires of the imagination paralleled the very real empire-building taking place at that time. Not all panoramic views were made for public entertainment; panoramas of foreign cities and archaeological sites were also commonly created for scientific and documentary purposes and made in many artistic mediums, including etchings, lithography, and, later, photography.
Mexico on Display

In 1823, William Bullock, proprietor of London's Egyptian Hall, and his son, William Jr., spent six months in Mexico collecting artifacts. They were among the first Europeans to visit Mexico after it was opened to foreign travelers in 1821. Upon returning, they organized the exhibitions Modern Mexico and Ancient Mexico—the first of their kind.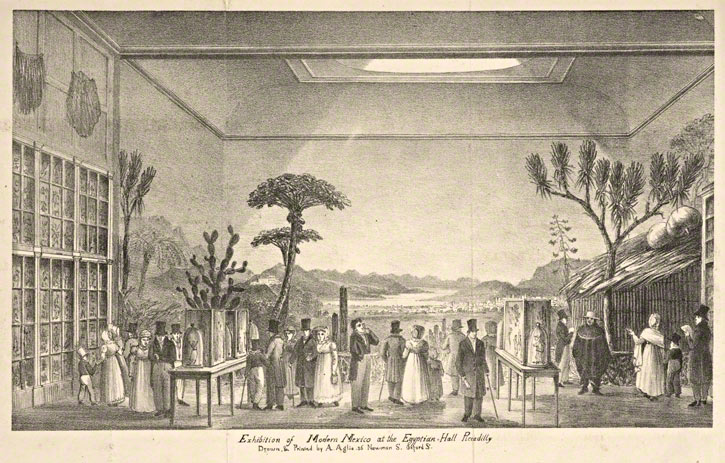 On display were antiquities, plants, animals, minerals, handicrafts, and even a live Mexican Indian with his hut—all set against a panoramic view of the Valley of Mexico painted by William Bullock Jr. The exhibitions were visited by nearly fifty thousand people. Two years later, Robert and John Burford turned Bullock's original sketches into a large-scale circular panorama of Mexico City that was shown in Europe and the United States.
The Governor's Palace at Uxmal

Augustus Le Plongeon's pieced photographic panorama of the 320-foot facade of the Governor's Palace in Uxmal, Mexico, a detail of which is shown here, documents the building's frieze at close range. Context and a sense of scale are provided by the small figure of Alice Le Plongeon standing in the triangular arch.
Augustus and Alice Le Plongeon spent almost twelve years (1873–85) in Yucatán studying the ancient Maya. Both were accomplished photographers.