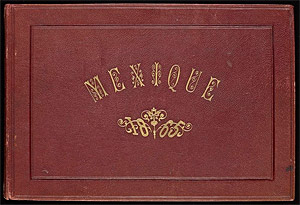 The following resources from the Special Collections of the Research Library at the Getty Research Institute have been digitized in conjunction with the exhibition.

Giro del mondo del dottor d. Gio. Francesco Gemelli Careri
Giovanni Francesco Gemelli Careri
1699
6 volumes
The Getty Research Institute, 2698-167

Primera[-tercera] parte de los veinte i vn libros rituales i monarchia indiana: con el origen y guerras, de los indios ocidentales, de sus poblaciones: descubrimiento, conquista, conuersion, y otras cosas marauillosas de la mesma tierra: distribuydos en tres tomos...
Juan de Torquemada
1723
3 volumes
The Getty Research Institute, 93-B9219

Facsimile of Historia de las cosas de Nueva Espanña
Bernardino de Sahagún
1905–1907 (?)
4 volumes
The Getty Research Institute, 91-B18105

Fold-Out Lithograph Facsimile of the Codex Boturini in John Delafield, An inquiry into the origin of the antiquities of America
1839
142 pages, 10 pages of plates (5 color)
The Getty Research Institute, 93-B6748

Homenaje á Cristobal Colón. Antigüedades mexicanas; publicadas por la Junta colombina de México en el cuarto centenario del descubrimiento de América
México, Oficina tipográfica de la Secretaría de fomento
1892
80 pages
The Getty Research Institute, 89-B20150

Albums

Mexique, 1865
Louis Falconnet
1864–ca. 1867
ca. 168 pages
The Getty Research Institute, 93.R.20

Collections mexicaines de Auguste Génin
Auguste Génin
ca. 1910
ca. 73 pages
The Getty Research Institute, 95.R.4

Materials from the Augustus and Alice Dixon Le Plongeon Papers

Views of Maya Ruins in the Yucatan
1873
42 photographs
The Getty Research Institute, 96.R.137

Augustus and Alice Dixon Le Plongeon Photographs of Mexican Archaeological Sites
1873–1910
46 photographs
The Getty Research Institute, 2007.R.8

Augustus and Alice Dixon Le Plongeon Papers
1763–1937, bulk 1860–1910
The Getty Research Institute, 2004.M.18