The Porfiriato: Archaeology and Mexican Nationalism, 1876–1910

General Porfirio Díaz, who gained fame during the first battle of Puebla against the French, ruled Mexico as a virtual dictator from 1876 to 1910. During the Porfiriato, as this period became known, Mexico enjoyed relative political stability and significant economic expansion. Díaz's modernization programs transformed Mexico through engineering projects such as the building of railroads, bridges, and power plants. Much of this was paid for by foreign investors, who were wooed on luxury tours that highlighted Mexico's exploitable natural resources. At the same time, Mexico's ancient past became an essential component of its national identity.
While the production of images of ancient Mexico dramatically increased during this period, the portrayal of Mexico's past was no longer primarily the domain of foreign travelers and writers. Government-sponsored projects, such as lavish publications and national pavilions at world expositions, showcased Mexico as it wished to be viewed by the world.
Representing Mexico at the World's Fair

The Palacio azteca, Mexico's pavilion at the 1889 Exposition universelle, was designed by historian Antonio Peñafiel and engineer Antonio M. Anza as a synthesis of Mexican historical styles set in a modern context. The result was a neo-Aztec temple in the Beaux-Arts style. It was covered in geometric relief patterns, and the heavily ornamented pediment over its entrance was capped by an Aztec Calendar Stone-like disk.
Niches containing bronze statues of Aztec emperors and other Mexican figures by Jesús Contreras, an artist favored by the Porfirian regime, punctuated its facade.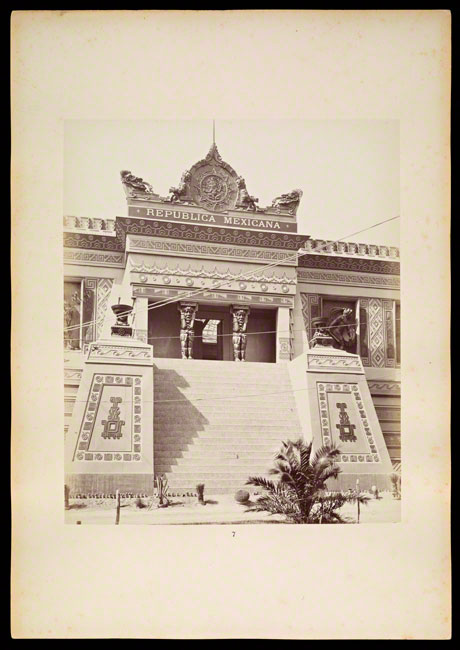 Mexico Writes Its Own History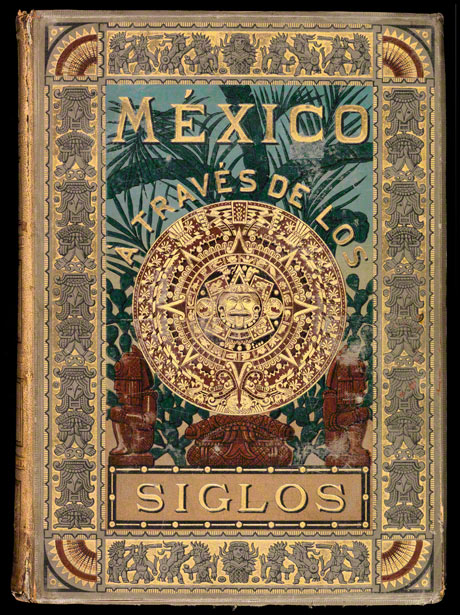 The five-volume México a través de los siglos was the first encyclopedic historical survey of Mexico to be produced by Mexicans. Published in time for the 1889 Exposition universelle in Paris, it was conceived as a vehicle to place the modern nation of Mexico in front of the world.
A typographical tour de force whose production was subsidized by the Mexican government, it is lavishly illustrated with colored lithographs. Highlighted in gold, the Aztec Calendar Stone and other antiquities adorn its embossed cover.
In the book's frontispiece, the sculpture appears again behind a classicized Indian couple perched on a garlanded Stone of Tizoc, an Aztec sacrificial stone. A leopard pelt is slung across the warrior's shoulders, at whose feet are strewn both Aztec and Spanish weapons.