Mexico during the French Intervention, 1862–1867

By the late 1850s, years of internal strife had left the young republic of Mexico fractured and deeply in debt to Europe. Seeing an opportunity to expand the French Empire in the New World, Napoleon III invaded Mexico in 1862. Ferdinand Maximilian Joseph, archduke of Austria, and his wife, Carlota, were installed as emperor and empress of Mexico in 1864.
During this time, the Commission scientifique du Mexique, established by Napoleon III to survey all aspects of the occupied country, produced numerous illustrations for scientific reports and travel narratives. In addition, souvenir images were created by and for foreign soldiers, and images of Mexico frequently appeared in the international illustrated press. Although the Second Mexican Empire was short-lived—the French army withdrew from Mexico in 1867, leaving Maximilian to face court-martial and execution—the legacy of image-making was continued by artists and photographers who remained in the country.
Symbols of Conquest

In 1863, following his successes during the siege of Puebla and other battles, François Achille Bazaine became commander of the French expeditionary force in Mexico. He is shown here on horseback wearing a flapped campaign hat and cape with his officers ranged behind him. He sits upon a jaguar pelt, once the symbol of Mexico's Pre-Columbian rulers, alluding to France's new role as master of Mexico.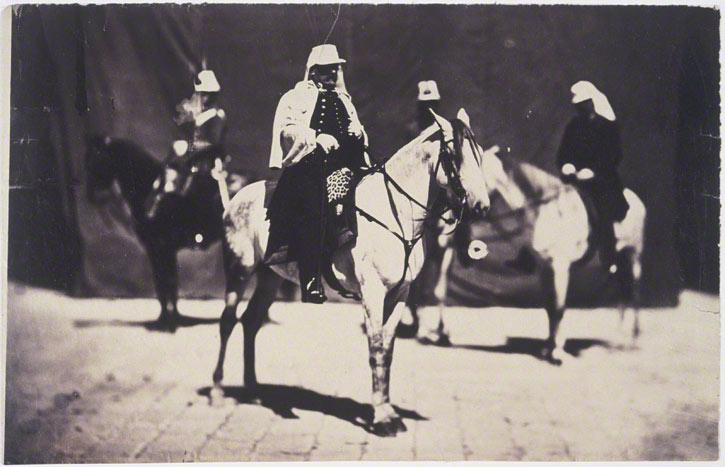 The Boban Calendar

The Commission scientifique du Mexique surveyed Mexican archaeological sites and studied French private collections, such as that assembled by Eugène Boban. The Commission's reproduction of the Boban Calendar (ca. 1530), as this Aztec map and calendar are known, shows details that have since been lost due to deterioration of the manuscript.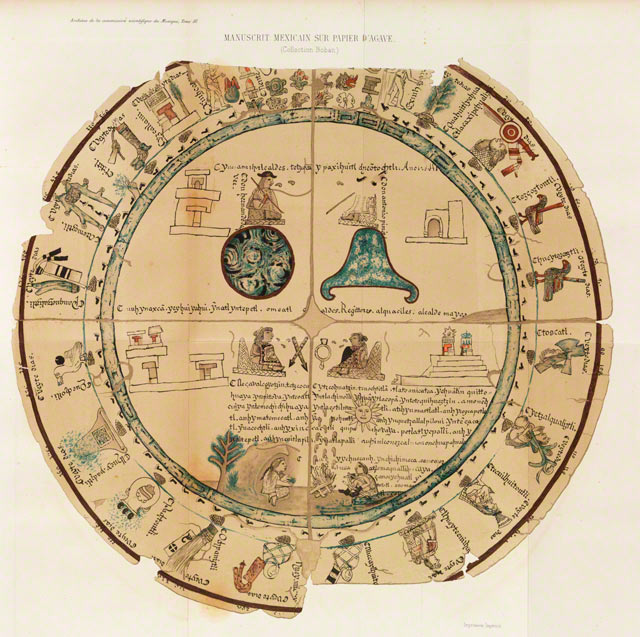 Hieroglyphs for the eighteen Aztec months ring the circular image, where Cortés sits on a woven throne above a blue circle representing the Lake of Mexico. Across from him sits Antonio Pimentel, the native ruler of Tetzcoco after the conquest and son of Cortés's Indian ally, Ixtlilxochitl.