Archaeometry of Pre-Columbian Sites and Artifacts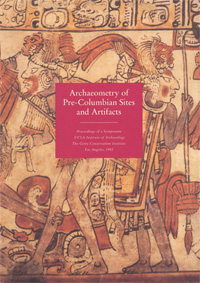 Edited by David A. Scott and Pieter Meyer; 1992

Based on the 28th International Archaeometry Symposium jointly sponsored by the University of California, Los Angeles, and the Getty Conservation Institute, this volume offers a rare opportunity to survey under a single cover a wide range of investigations concerning pre-Columbian materials. Twenty chapters detail research in five principal areas: anthropology and materials science; ceramics; stone and obsidian; metals; and archaeological sites and dating. Contributions include Heather Lechtman's investigation of "The Materials Science of Material Culture," Ron L. Bishop on the compositional analysis of pre-Columbian pottery from the Maya region, Ellen Howe on the use of silver and lead from the Mantaro Valley in Peru, and J. Michael Elam and others on source identification and hydration dating of obsidian artifacts.
How to Cite this Work
Scott, David A., and Pieter Meyers, eds. 1994.
Archaeometry of Pre-Columbian Sites and Artifacts: Proceedings of a Symposium Organized by the UCLA Institute of Archaeology and the Getty Conservation Institute, Los Angeles, California, March 23-27, 1992
. Marina del Rey, CA: Getty Conservation Institute. http://hdl.handle.net/10020/gci_pubs/archaeometry_pre_columbian