The Lumière Autochrome: History, Technology,
and Preservation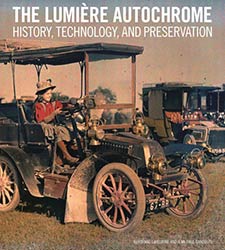 By Bertrand Lavédrine and Jean-Paul Gandolfo, with the collaboration of Christine Caperdou and Ronan Guinée; 2013
Purchase a Copy
Find in WorldCat
Louis Lumière is perhaps best known in the United States for his seminal role in the invention of cinema, but his most important contribution to the history of photography was the autochrome. Engagingly written and marvelously illustrated with over three hundred images, this translation from the French tells the fascinating story of the first industrially produced form of color photography.
Initial chapters present the Lumière family enterprise, set out the challenges posed by early color photography, and recount the invention, rise, and decline of the autochrome, which in the early twentieth century was the most widely used form of commercial color photography. The book then treats the technology of the autochrome, including the technical challenges of plate fabrication, described in step-by-step detail, and gives an account of autochrome manufacture. A final chapter provides in-depth recommendations concerning the preservation of these vulnerable objects. The appendix includes transcriptions and facsimile reproductions from the Lumière notebooks, as well as original patent documents.
Related Getty Conservation Institute project: Photographic Processes Research.