Jean Paul Riopelle: The Artist's Materials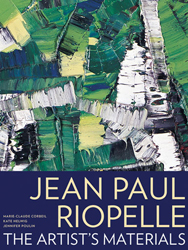 Marie-Claude Corbeil, Kate Helwig,
and Jennifer Poulin; 2011
The Artist's Materials Series

Purchase a Copy
Find in WorldCat
Jean Paul Riopelle (1923-2002) was one of the most important Canadian artists of the twentieth century, yet he is relatively unknown in the U.S. He began his career in Montreal in the 1940s, where he played a role in the influential Automatist movement, and established his reputation in the burgeoning art scene of postwar Paris, where his circle included André Breton, Samuel Beckett, and Sam Francis. During his career, Riopelle produced over six thousand works, including more than two thousand paintings.
This volume, the second in the Artists Materials series,grew out of a research project of the Canadian Conservation Institute. Initial chapters present an overview of Riopelles life and situate his work within the context of twentieth century art. Subsequent chapters address Riopelle's materials and techniques, focusing on his oil paintings and mixed media works, and on conservation issues. The preface is by Yseult Riopelle, the artist's eldest daughter and editor of his catalogue raisonné. This first book-length study of the artist in English will interest curators, conservators, conservation scientists, and general readers.
Marie-Claude Corbeil is manager of the Conservation Science Division at the Canadian Conservation Institute in Ottawa. Kate Helwig and Jennifer Poulin are conservation scientists at the CCI.
Related Getty Conservation Institute Project: Modern and Contemporary Art Research Initiative.