The Last Days of Pompeii addresses the potent legacy of the ancient city of Pompeii in the modern imagination.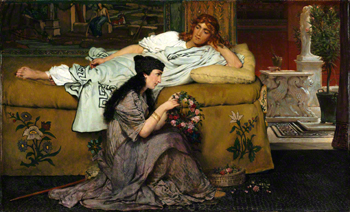 The eruption of Mount Vesuvius in A.D. 79 destroyed yet paradoxically preserved the city of Pompeii and neighboring towns. Seemingly frozen in time, they are often considered the places where we can best access the daily lives of ancient Romans. While providing windows to the past, since their rediscovery in the early 1700s, the Vesuvian cities have also served as mirrors of the shifting present. For three centuries they have remained a constant obsession, inspiring foremost artists—from Piranesi, Fragonard, Ingres, and Alma-Tadema to Duchamp, Dalí, Rothko, and Warhol—to examine contemporary concerns, such as sexual identity, psychoanalysis, the nuclear threat, collective memory, and the nature of art.
The exhibition draws its name from Edward Bulwer-Lytton's 1834 novel
The Last Days of Pompeii
, a melodrama of Pompeian life set immediately before the eruption of Vesuvius. One of the most popular literary works of the 19th century, the novel transformed modern perceptions of Pompeii and inspired numerous works of art, several of which are on view in the exhibition.

Publication

Related Information