Allan Sekula Archive
Allan Sekula papers, ca. 1960–2013
Allan Sekula (American, 1951–2013) revitalized documentary photography, provided critical foundations for theorizing the relationship between word and image, and was one of the earliest artists to cast a critical eye on globalization as social phenomenon. This archive documents his practice as an artist and writer, serving as a defining resource for researchers interested not only in Sekula but in the transformation of photography as both a medium and an art form in the postwar era.

Sekula's centrality to the history of contemporary art and photography can be attributed to several factors. Firstly, he pioneered a form of socially committed documentary work that, in the wake of conceptual art, rethought photographic practice and its significance. In place of aesthetics that privileged the instantaneity or purely pictorial qualities of photography, he produced and modified his work over long periods of time, and in series, so that the significance emerged from the entirety of the corpus.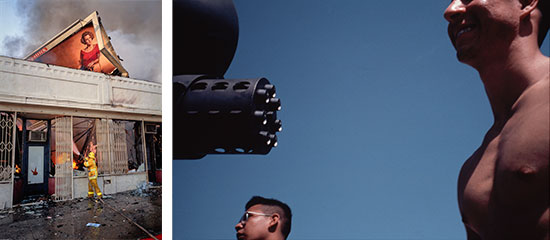 Secondly, Sekula stressed the connections between photographic image and text, both in his artwork and in his critical writing. He was an early proponent of artistic engagement with theoretical developments, and many of his essays are canonical texts in photographic theory, from early critiques of photographic tastemakers Alfred Stieglitz and Edward Steichen to a pioneering analysis of the will to power expressed in the historical formation of photographic archives. Lastly, Sekula's interest in all manner of work—paid and unpaid, casual and unionized—and the changing maritime world led him to become one of the first artists to seriously consider the effects of containerized shipping on outsourced production and global trade. His work continues to influence artists and critics engaged with the depiction and discourse of class relations in contemporary society.


Sekula developed a style of photographic installation that frequently combined modes of photography, cinema, and literature, while drawing liberally from the conventions of conceptual art, postmodernism, and the history of documentary photography. War Without Bodies (1991–96) asks viewers to sit on a soldier's cot and read about the first Gulf War while viewing images that Sekula captured at a 1991 air show and Gulf War victory celebration in Santa Ana, California, showing men and a small boy caressing the barrel of heavy artillery. Such a scene of male fascination with contemporary machines of death typified his resistance to representations of modern mechanized war free of sacrifice or trauma.

In addition to his work as a photographer, Sekula was exceptionally influential as a writer and theorist. Indeed, he is widely acknowledged as one of the most notable thinkers on photography, and his influence as a critic is pervasive. He authored many essays that repositioned the status of the photographic image, revised its documentary status, and cast a critical eye on the market for photography that developed in the 1970s.