Tania Norris Collection of Rare Botanical Books and Woodblocks
The Getty Research Institute has received a gift of rare botanical books and Renaissance woodblocks from botanical art collector Tania Norris. This generous donation enhances the scholarly exploration of the complex historical intersections between science and art. The
Tania Norris Collection of Botanical Books
provides unparalleled insight into the impact of natural science on visual arts in Europe from the 16th through the 19th century, while also offering rewards for scholars researching global botanical trade and its influence on
Wunderkammer
culture from the Renaissance to the baroque period.
The six large woodblocks are from a suite by artists Giorgio Liberale and Wolfgang Meyer and most were first printed in the 1562 Czech edition of botanist Pietro Andrea Mattioli's commentary on Dioscorides, which became the standard reference work on medical botany. Considered to be some of the finest botanical illustrations of their time for their size, complexity, and accuracy, the blocks are cut from pear wood, along the grain, and may have been drawn directly onto the wood. The plant species represented are buttercup, carline thistle, datura, hemlock water dropwort, lettuce, and teasel.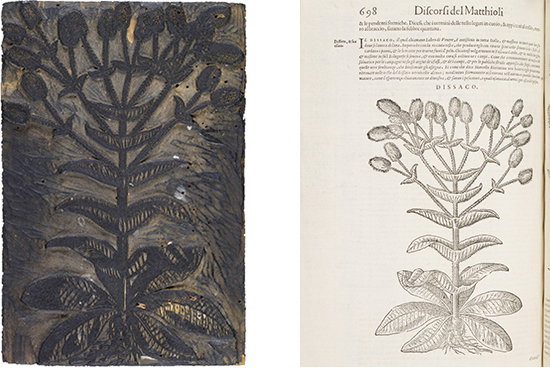 Highlights from the collection of 41 books include
Crispijn van de Passe's Hortus floridus (The flower garden) from 1614, the first book to employ an early form of microscopy in the author's use of magnifying lenses to examine flowers for engraving
Johann Christoph Volkamer's 1708 book Nürnbergische Hesperides (The garden of Hersperides at Nuremberg), which documents both the introduction of Italian citrus to Germany and the ensuing revolution in urban planning as private orchards designed for the cultivation of fruit also began to serve as semipublic parks
A volume of Maria Sibylla Merian's Der rupsen begin (Birth of the butterfly) from 1717, the first book to depict insect metamorphosis and one of the few surviving copies reputedly hand-colored by Merian's daughter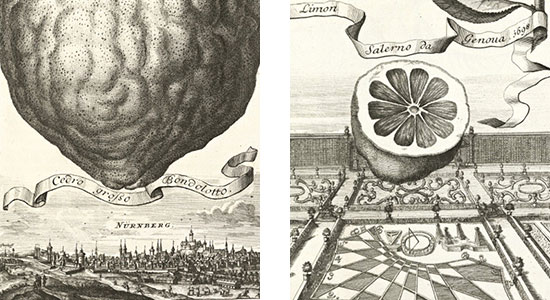 Assembled by Norris over the last 30 years through individual acquisitions from US, European, and Australian booksellers, the collection greatly augments the Research Institute's collection of rare books in the history of botany and horticulture, offering opportunities to study the complex artistic relationship between physiognomy and naturalism in visual representation. The books also uniquely document the codependent progress of technologies in the history of medicine, pharmacology, and the color and textile industries.