Emmett Williams Archive
The American-born poet and visual artist Emmett Williams played a central role in the practice and dissemination of interdisciplinary art forms following World War II, particularly as part of Fluxus and the concrete poetry movement of the mid-20th century.


This collection of materials, referred to here as the Berlin archive, covers Williams's entire career, including his early 1950s arts features for the US Army daily newspaper Stars and Stripes, his signature concrete poems Alphabet Poem and Sweethearts, his collaborations with Fluxus and concrete poets on prints and artists' books from the 1960s on, and the graphics and multiples he received from fellow poets and visual artists.


Despite Williams's role as an enthusiastic promoter of concrete poetry through his Anthology of Concrete Poetry (1967) and as a leading figure within Fluxus, scholars have yet to analyze his long artistic career and collaborations from the late 1950s through the mid-2000s. This archive will provide art historians and curators with a unique opportunity to assess his contributions to post-World War II art in Europe and the United States.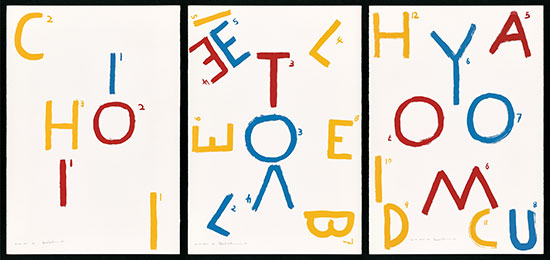 During the 1970s, Williams sold a portion of his archive and single works to the American collector Jean Brown, and these became part of the
Jean Brown Archive
acquired by the Getty Research Institute in 1985. Brown's original archive from Williams included correspondence with leading figures such as George Brecht, Ian Hamilton Finlay, Claes Oldenburg, and La Monte Young, scores by Williams, and letters and prints by fellow poets and artists. The Research Institute's acquisition of the Berlin archive brings it together with the Jean Brown material, establishing the complete Emmett Williams Archive in one location.
The Williams archive has close and deep connections to many other Research Institute collections, including the Fluxus multiples in the Brown archive, artists' books by Dieter Roth, the
Robert Watts Archive
, and our rich, vast collection of concrete poetry. The Williams archive also overlaps with our recent acquisition of
the papers of Claes Oldenburg
, who worked with Williams on a book of photographs and documents called
Store Days
(1967), and with
the papers of Simone Forti
, who taught with Williams at California Institute of the Arts (CalArts) and the Nova Scotia College of Art and Design between 1970 and 1974.