The first major exhibition to survey Los Angeles's complex urban landscape and diverse architectural innovations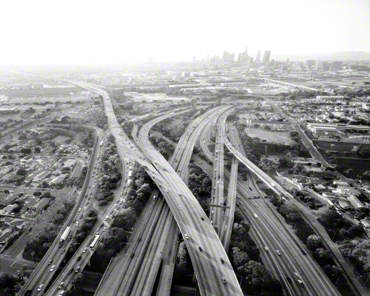 During the 20th century, Los Angeles rapidly evolved into one of the most populous and influential industrial, economic, and creative capitals in the world. Innovations promoted by enlightened patrons and visionary planners and architects transformed an expansive, latent landscape into a vibrant laboratory for cutting-edge design.

Overdrive refers to the extraordinary pace and worldwide impact of L.A.'s impressive growth. The term also alludes to the fact that an engine churning at incredible speed may overheat. In the face of complicated civic, socioeconomic, and environmental challenges, L.A. has continued to recalibrate and foster bold new cycles of architectural exploration.

This groundbreaking exhibition provides an engaging view of the region's diverse urban landscape, including its ambitious freeway network, sleek corporate towers, whimsical coffee shops, popular shopping malls, refined steel-and-glass residences, and eclectic cultural institutions. Drawings, photographs, models, films, animations, oral histories, and ephemera illustrate the complex dimensions of L.A.'s rich and often underappreciated built environment, revealing this metropolis's global impact.

Publication

Pacific Standard Time Presents