In Focus: Ed Ruscha
Ed Ruscha's art is characterized by graphic simplicity, playful humor, and a keen interest in the vernacular as it applies to both language and architecture. This exhibition explores his photography, including well-known photo-based book projects.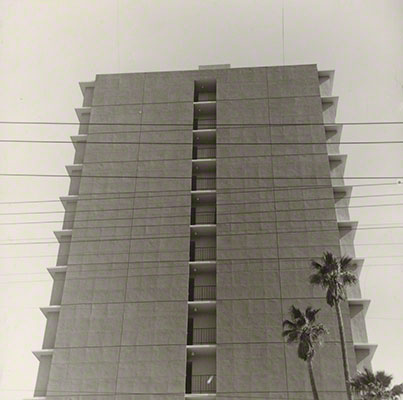 Ruscha moved to Los Angeles in 1956 to study design at Chouinard Art Institute. Throughout a career of more than fifty years, he has produced paintings, photographs, prints, drawings, and films that often reflect on the city's vernacular architecture, urban landscape, and car culture. Photography has always been central to his artistic practice, most notably for the slender, pocket-sized volumes that he began publishing in 1963 and his extensive documentation of Los Angeles streets, beginning with Sunset Boulevard in 1965. Several of the photographs that appeared in these publications became source material for works of art that he would realize in other media, either at the same time or years later—for example, the photograph of Standard Station, Amarillo, Texas, published in Twentysix Gasoline Stations and later abstracted in a well-known painting now in the Hood Museum of Art, Dartmouth College.

The works in this show are drawn from recent acquisitions of vintage prints by the Getty Museum and of Ruscha's Streets of Los Angeles Archive by the Getty Research Institute.


Twentysix Gasoline Stations (1963)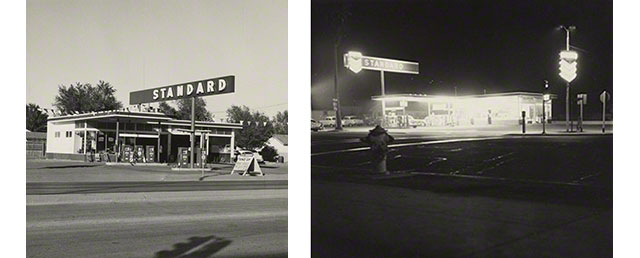 Rejecting the tradition of the limited-edition, handcrafted artist's book, Ruscha produced sixteen photo books between 1963 and 1978 in large editions on high-speed professional presses. Most feature snapshot-like photographs that he made with his 2¼-inch-format Yashica camera and sequenced in straightforward layouts. A simple, descriptive title in capital letters against the monochromatic background of the cover provides the narrative content for each book.

For the first of his photo books, Ruscha photographed gas stations along Route 66 during road trips between Los Angeles and his hometown of Oklahoma City. In addition to images that appeared in Twentysix Gasoline Stations, this selection includes variant prints, a contact sheet, and unpublished images, providing insight into the process by which Ruscha identified his subjects, employed a documentary style to record them, and made subsequent editing decisions.


Some Los Angeles Apartments (1965)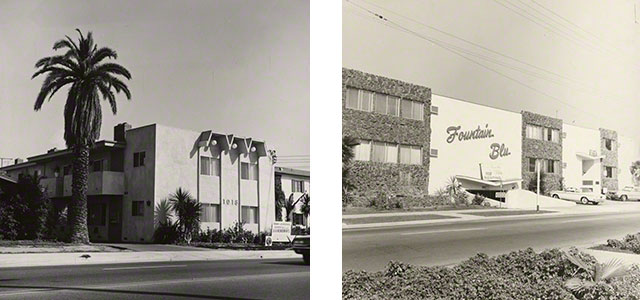 Ruscha's third book presents thirty-four photographs of apartment buildings in Los Angeles and environs, from Malibu in the west to Rosemead in the east and from Van Nuys in the north to Long Beach in the south, with several addresses concentrated in Westwood and Hollywood. Whether a multistory high-rise or a two- or three-story walk-up, each building is centered in the picture frame and photographed either head on or at a slight angle. The images are intentionally devoid of humans, and several encapsulate characteristics associated with a Los Angeles lifestyle—facades bathed in sunlight, crowned with playful decorative elements, and framed by palm trees. Others underscore Ruscha's interest in the bold graphic treatment of the building's name or address.


Every Building on the Sunset Strip (1966)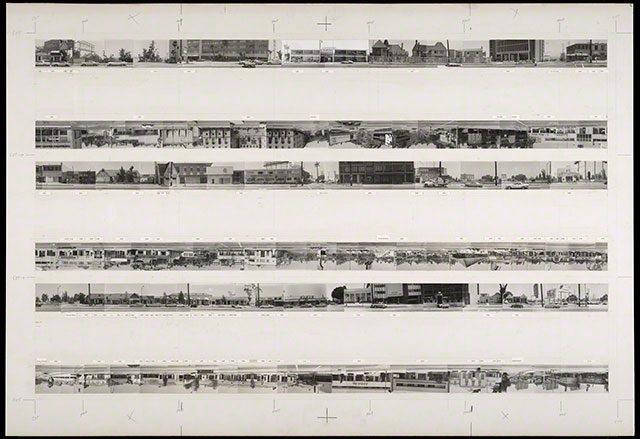 Ruscha's fourth book presents all of the structures on the mile-and-a-half stretch of Sunset Boulevard between Beverly Hills and Laurel Canyon. The artist created the twenty-four-foot-long double view by photographing both sides of the street with a 35 mm camera mounted to a slow-moving automobile and then meticulously collaging the photographs together. In presenting a virtual cruise down the Strip, as it is called, Ruscha pays homage to a popular hangout and its commercial culture. Now part of West Hollywood, the Strip then lay in an unincorporated part of Los Angeles County, which facilitated its development as a nightlife hotspot. By the mid-1960s, its nightclubs, including the Whisky a Go Go, were regularly featuring then up-and-coming bands such as the Byrds and the Doors. The signage of the establishments there, as well as the many billboards, has continued to provide inspiration for Ruscha's work in other media.


Pacific Coast Highway (1974)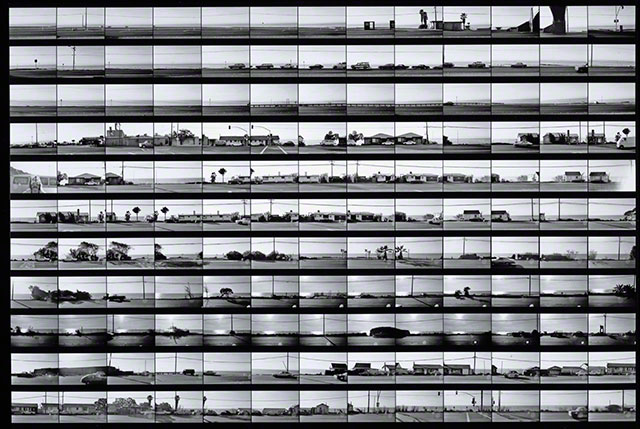 Ruscha's book projects of the sixties and seventies have come to be recognized as central to photography's development, encouraging both conceptual approaches and interest in analyzing the built landscape. Less well known is his continuing commitment to capturing the various thoroughfares of his adopted home city. Ruscha has used the same automobile-based system to photograph such major boulevards as Wilshire, Hollywood, and Sepulveda, and, more recently, "suites" of smaller roads in Chinatown, Silver Lake, and other neighborhoods. At present, the Streets of Los Angeles project numbers more than forty separate shoots and well over a million exposures.