Engines of Innovation
Los Angeles's advanced industries gave designers access to innovative materials and fabrication technologies. With wider avenues for creativity, architects were challenged to construct dynamic new building types. An array of sophisticated structures were commissioned by the economic engines of media and entertainment, oil, international commerce, aerospace, and higher education.


Media and Entertainment
Los Angeles's status as the capital of show business and popular culture was boldly branded on the city's terrain through the iconic Hollywood Sign and Walk of Fame, which have enticed aspiring talents and international visitors for decades. As a result of advances in film and television production and music recording technology, as well as the rise of new-media firms testing the boundaries of digital design, architects were commissioned to produce more-sophisticated landmarks for the entertainment industry. Headquarters for companies such as CBS, Capitol Records, and Chiat\Day reflect the creative ambition and exploratory nature of these enterprises. Within their dynamic facades, state-of-the-art spaces enabled the development of revolutionary visual and sonic landscapes.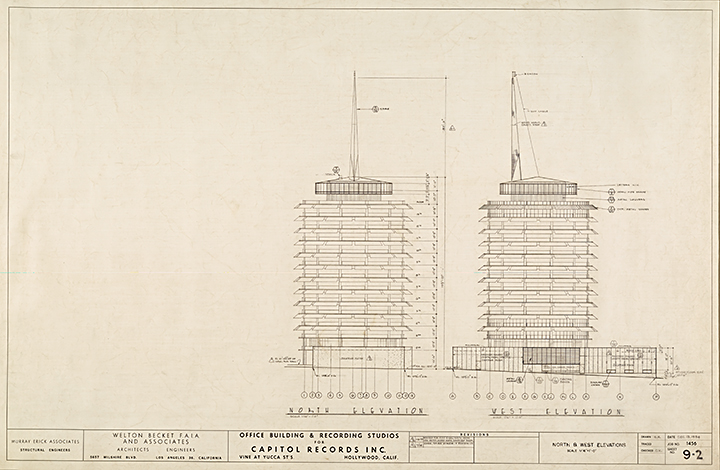 Video: » Capital Records: Engineering an Icon
Although evocative of a stack of records on a turntable, the form of the Capitol Records building—the first circular office building in the world—was actually designed to maximize usable work space and minimize construction materials and heating and cooling costs. The iconic tower's underground floors feature the earliest studios created for high-fidelity recording. Their legendary reverberation chambers have served as musical laboratories for artists including Frank Sinatra, Nat King Cole, and the Beach Boys.
Oil
One of the world's largest oil deposits was discovered hundreds of feet beneath Los Angeles's urban surface in 1892. By the 1920s, sprawling fields of derricks produced one-fifth of the globe's oil supply. L.A.'s lucrative petroleum industry spurred the built environment to grow in diverse ways.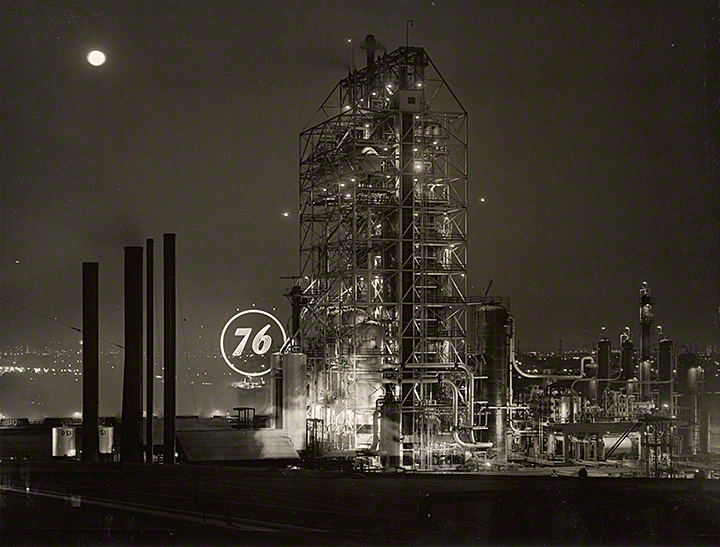 In Long Beach Harbor, inventive designers masked the unsightly operations of towering derricks with lush landscapes and sculptural facades. Massive refineries nearby, such as the Union 76 Oil Refinery, were transformed into mesmerizing illuminated cityscapes at night, imposing a powerful industrial aesthetic on the terrain. Headquarters for Union Oil, Getty Oil, and the Atlantic Richfield Company, clad in expensive yet understated finishes of granite, marble, and stainless steel, projected a polished modern identity for L.A.'s formidable "black-gold" corporations.


During the 20th century, Los Angeles transformed itself from a limited, natural resource-based exporter into one of the world's largest, most diversified economies. The corporate structures of the Wilshire Boulevard corridor, downtown L.A., and Century City reflect the region's escalating wealth and increased international engagement. California redevelopment laws passed in 1945 authorized the clearance of low-income areas controversially designated as slums, and L.A.'s building-height restrictions were eliminated in 1956. These allowances enabled civic and business leaders to envision towering new centers of commerce built on the foundations of existing neighborhoods, as well as on valuable open land.


Higher Education
We are not just moving from one building to another; we are creating a whole new climate for a design college that can influence not just our own college community, but also the design thinking and attitudes of all those we serve outside of our community—the businesses, the industries, and the society itself.
—Don Kubly, Art Center President's Report, 1971

The economic engines of Southern California were fueled by a steady influx of skilled labor and creative minds trained at influential schools across the region. Productive classrooms and pioneering research incubators required modern facilities. To meet these demands, architects built new, comprehensively designed campuses with multi-decade master plans. Existing educational institutions were augmented with contemporary structures dedicated to growing fields such as international relations, communications, and the arts.

Banner image:
LAX Theme Building by Pereira & Luckman, Welton Becket & Associates, and Paul R. Williams
(detail), construction completed 1961. Pencil, watercolor, and gouache on board, 1958, 36 x 48 in. (91.4 x 121.9 cm). Alan E. Leib Collection. Image courtesy of and © Luckman Salas O'Brien
Publication

Pacific Standard Time Presents