Car Culture
Los Angeles's identity is inextricably linked with the automobile. During the mid-20th century, cars were strategically transformed from convenient modes of personal transportation into rapidly produced, gleaming symbols of self-expression.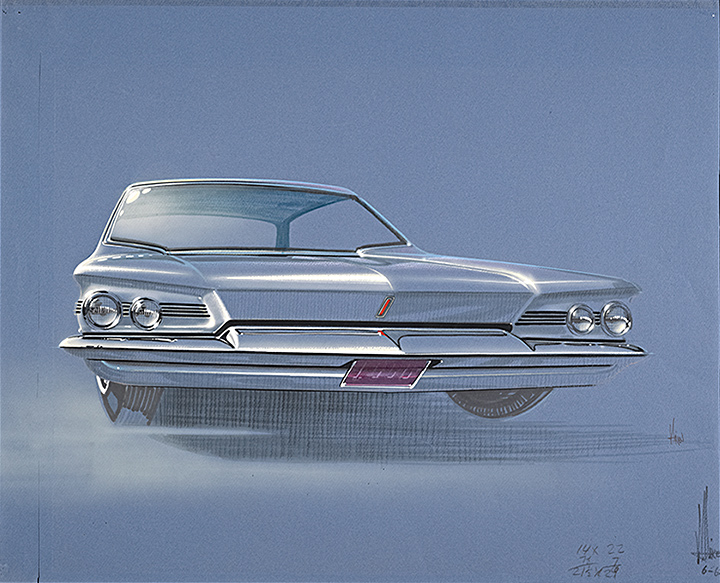 Imaginative automotive designs featured the industrial forms and materials that inspired and enabled L.A. architects to create new structures geared toward motorized living. Ubiquitous gas stations and strip malls, sleek coffee shops, flashy movie theaters, and inventive drive-in churches all shaped the city's reputation as the preeminent capital of curbside culture.


Ed Ruscha's Streets of Los Angeles
Video » Ed Ruscha's Hollywood Boulevard, 1973 and 2002
Artist Ed Ruscha's fascination with the vernacular architecture of L.A.'s eclectic neighborhoods began over 50 years ago and endures to this day. In the 1960s, Ruscha started documenting the building facades along the city's major boulevards by taking continuous photographs with a 35 mm camera mounted to a moving vehicle. His first related publication,
Every Building on the Sunset Strip
(1966), captures an extensive stretch of the famous thoroughfare. The Streets of Los Angeles Archive, now preserved at the Getty Research Institute, documents Ruscha's comprehensive views of avenues throughout the region, including the iconic Sunset Strip and Hollywood Boulevard.
See more works by this artist in the exhibition
In Focus: Ed Ruscha »

Coined as a disparaging term for a new type of roadside commercial building, Googie architecture has become a beloved dimension of Los Angeles. The unique style is named after John Lautner's original Googies coffee shop on Sunset Boulevard, completed in 1949. In the 1950s, the firm of Armet & Davis and architects such as Douglas Honnold and Wayne McAllister redefined auto-oriented design by creating captivating restaurants, such as Romeo's Times Square, inspired by the era's revolutionary automotive and aerospace technologies. Eye-catching signs and expansive glass facades crowned with undulating, cantilevered roofs, as well as dynamic interiors integrated with natural materials and lush vegetation, served to attract the attention of rapidly passing drivers.

Banner image:
LAX Theme Building by Pereira & Luckman, Welton Becket & Associates, and Paul R. Williams
(detail), construction completed 1961. Pencil, watercolor, and gouache on board, 1958, 36 x 48 in. (91.4 x 121.9 cm). Alan E. Leib Collection. Image courtesy of and © Luckman Salas O'Brien
Publication

Pacific Standard Time Presents