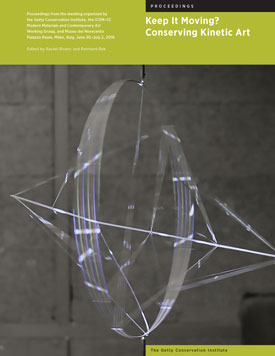 Open Access
Keep It Moving? Conserving Kinetic Art
Edited by Rachel Rivenc and Reinhard Bek
2017
208 pages
PDF file size: 5.1 MB
Description
Kinetic art not only includes movement but often depends on it to produce an intended effect and therefore fully realize its nature as art. It can take a multiplicity of forms and include a wide range of motion, from motorized and electrically driven movement to motion as the result of wind, light, or other sources of energy. Kinetic art emerged throughout the twentieth century and had its major developments in the 1950s and 1960s.
Professionals responsible for conserving contemporary art are in the midst of rethinking the concept of authenticity and solving the dichotomy often felt between original materials and functionality of the work of art. The contrast is especially acute with kinetic art when a compromise between the two often seems impossible. Also to be considered are issues of technological obsolescence and the fact that an artist's chosen technology often carries with it strong sociological and historical information and meanings.
Table of Contents
Foreword — Timothy P. Whalen
Preface — Rachel Rivenc
Opening Remarks: The Kinetic Collection at the Museo del Novecento, Milan — Iolanda Ratti
Part 1. Keynotes

1. A Question of KinEthics — Reinhard Bek
2. The Fluid Boundaries between Interpretation and Overinterpretation: Collecting, Conserving, and Staging Kinetic Art Installations — Tiziana Caianiello

Part 2. Case Studies

3. Fast and Furious: Operation, Maintenance, and Repair of Chris Burden's Metropolis II at LACMA — Mark Gilberg, Alison Walker, and Richard Sandomeno
4. Conserving Thomas Wilfred's Lumia Suite, Opus 158 — Carol Snow and Lynda Zycherman
5. Cybernetic Umbrella: A Case Study in Collaboration — Carla Flack, Louise Lawson, Jack McConchie, and Ming-Yi Tsai
6. Moving with the Times: The Refurbishment and Restoration of a Choreographed Robotic Arm — Sherry Phillips and Marcel Verner

Part 3. Collections/Artists' Oeuvres

7. Takis and the Fourth Dimension — Erin Stephenson and Kari Dodson
8. Preserving Performativity: Conserving the Elusive in Aleksandar Srnec's Artwork — Mirta Pavić and Vesna Meštrić
9. Engineering a Solution: Latin American Light-Based Kinetic Art at the Museum of Fine Arts, Houston — Jane Gillies and Ingrid Seyb
10. Intertwined Strategies for Conservation and Display of Kinetic Art: Case Studies in the European Neo-Avant-Garde — Francesca Pola and Barbara Ferriani
11. The Examination and Conservation of Thirteen Artworks by Jean Tinguely in the Collection of the Stedelijk Museum Amsterdam — Esther Meijer, Susanne Meijer, and Sandra Weerdenburg

Part 4. Theoretical Issues

12. The Hype about ZERO and Its Influence on the Conservation and Presentation of Early Kinetic Works — Gunnar Heydenreich and Julia Giebeler
13. Kinetic Multiples: Between Industrial Vocation and Handcrafted Solutions — Isabel Plante
14. The Collection of Nicolas Schöffer: From the Artist's Studio to the Museum — Manon D'haenens, Muriel Verbeeck, and David Strivay
15. "Pretty Good for the 21st Century": Restoration, Reconstruction, and Realization of Len Lye's "Tangible Motion Sculpture" — Paul Brobbel and Simon Rees

Part 5. Posters

16. Conserving Mechanical Elements in Technological Artifacts: Three Case Studies from Museo Nazionale della Scienza e della Tecnologia "Leonardo da Vinci," Milan — Marianna Cappellina and Claudio Giorgione
17. Think Big! The Conservation of Ballerina Clown, a Kinetic Work of Art by Jonathan Borofsky — Mine Erhan
18. Conserving a Kinetic "Rotor": Light Dynamo by Heinz Mack — Paola Iazurlo, Grazia De Cesare, and Mariastella Margozzi
19. Considering the Continuum of Care for Outdoor Kinetic Sculpture — Abigail Mack, Friederike Steckling, and Sara Levin
20. Gianni Colombo's Strutturazione cinevisuale abitabile: From Flickering to Light — Marlies Peller, Gerda Kaltenbruner, and Martina Pfenninger Lepage
21. Death of a moment: Management, Installation, and Maintenance of a Site-Specific Kinetic Sculpture — Eugenia Stamatopoulou
22. Future in Motion: Conservation Issues of Seven Kinetic Artworks by Dutch Artist Ray Staakman — Carien van Aubel, Nikki van Basten, Katja van de Braak, Sjoukje van der Laan, Anouk Verbeek, and Marleen Wagenaar
23. The Conservation Ethics of and Strategies for Preserving and Exhibiting an Operational Car: The Motion and Standstill of Joost Conijn's Hout Auto (Wood Car) — Arthur van Mourik

Contributors
Symposium Participants
Index of Videos
Bibliography
About the Authors
Rachel Rivenc, associate scientist, has been working within the Modern and Contemporary Art Research Initiative at the Getty Conservation Institute since 2006. She studies the diverse materials and techniques used by contemporary artists, and their conservation. She is also coordinator for the Modern Materials and Contemporary Art working group of ICOM–CC. Rivenc holds an MA in paintings conservation from the Université Paris 1 Panthéon-Sorbonne and received a PhD in history from the Université de Versailles Saint-Quentin-en-Yvelines. She recently published the book Made in Los Angeles: Materials, Processes, and the Birth of West Coast Minimalism.
Reinhard Bek completed his training as an objects conservator in 2002. That same year, he joined the Museum Tinguely in Basel, Switzerland, as its first permanent conservator. Bek was a founding member of the European Union project Inside Installations in 2003, and he was hired in 2008 by the Museum of Modern Art, New York, to spearhead an assessment of their technology-based artwork. In 2012, with his partner Christine Frohnert, he founded Bek & Frohnert LLC, based in New York City. He has lectured internationally and published widely on contemporary art conservation.