Education and Public Programs Highlights
July 2014–June 2015
The Education Department provides museum experiences for a broad range of visitors across two sites, the Getty Center and the Getty Villa.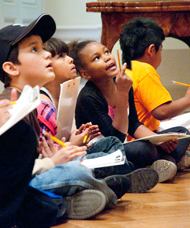 The Education Department serves over 800,000 visitors annually through tours, programs and interactive spaces; 350,000 come as family visitors and 162,000 visit as part of their school community.

Title One schools within 30 miles of the Getty sites are eligible for funding to underwrite the cost of their buses. This fund provides museum visits for 71,000 students at the Center and 30,000 students at the Villa for a total of 101,000 students annually.

At the Center and the Villa, 500 docents volunteer a total of 70,000 hours annually with 174 docents dedicated to providing guided tours for students at both Museum locations.


Media & Technology




The Getty Museum is now a Khan Academy partner! Over twenty Getty collection-based art history modules are now available on
Khan Academy
.

The Power of Arts Integration
video series features local teachers honing their arts integration practice with the support of Getty Museum resources.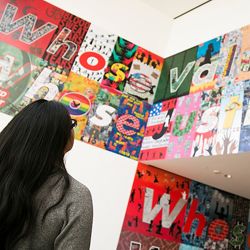 At the Center
Barbara Kruger, the 2014/15
Getty Artists Program
invitee, partnered with LAUSD Title I High Schools to create the
Whose Values?
project. Engaging with 400 students as an artist-in-residence at Grover Cleveland and Chatsworth Charter High Schools, Kruger led students in an investigation on the core curricular themes of social justice, identity, race, gender, and advocacy. The resulting installation culminates Kruger's residency and highlights the students' collaborative and creative visualization of Kruger's thought-provoking questions: Whose Values? Whose Justice? Whose Fears? Whose Hopes? Museum visitors were invited to add their voice to the project and respond Kruger's questions as part of a related activity. Visitors choose a tag, write a response, hang it on the wall or share it via #WhoseValues.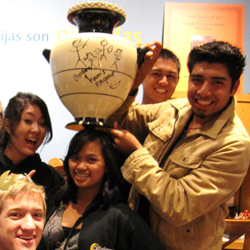 At the Villa

Over 4,000 students attended the museum's annual College Night at the Getty Villa and Getty Center. They enjoyed music, food, and drink, viewed museum galleries and conservation labs, talked with curators, visited exhibitions, and participated in thematic tours and events.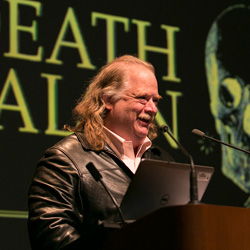 In the Spring, the Education Department hosted Death Salon Getty Villa: From Ancient Necropolis to L.A.'s Metropolis in conjunction with the exhibition Dangerous Perfection: Funerary Vases from Southern Italy. Death Salons invite participants to examine mortality and mourning through the lenses of art, history and culture. Experts on ancient and modern practices spoke in counterpoint, and visitors also enjoyed The Deathpod podcast, music, and death-themed tours.