Degas: "Russian Dancers" and the Art of Pastel
May 19–October 11, 2015, Getty Center
One of Degas's great late works, Russian Dancers (circa 1899), is on loan to the Getty Museum as the centerpiece of a special installation of late 19th-century French pastels.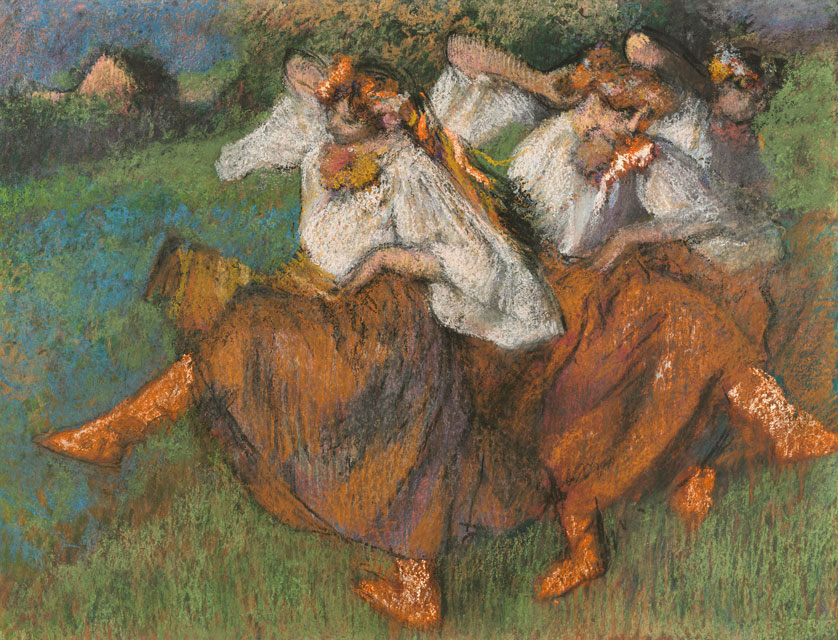 Russian Dancers
, 1899, Edgar Degas, pastel and brush on tracing paper. Courtesy of a private collection.
In this pastel, Degas celebrates the rambunctious abandon, bright colors, and elaborate folk costumes of Ukrainian peasant dancers, very much in contrast to the ethereal ballerinas for which he is famous. To Degas, the Russian peasants embodied the primitive and visceral human urge to dance. He captured this exuberance by applying layers of pure color on paper, artfully combining the immediacy of drawing with the vibrancy of painting.
Russian Dancers is joined by a selection of works from the permanent collection that depict Paris's flashy popular entertainments. These include Pierre Bonnard's Le Moulin Rouge (1889) and At the Circus: Entering the Ring (1899) by Henri de Toulouse-Lautrec.
---
Russian or Ukrainian Dancers?
The text above is retained as originally published, but current circumstances call for clarification.
The so-called Russian dancers in this pastel are Ukrainian dancers, and they performed in France at the end of 19th century as part of folk dance groups. Degas probably saw Ukrainian performers in Paris, given keen French interest in such culture after the establishment of the Dual Alliance between France and Russia in 1894.
Unfortunately, despite the importance and the uniqueness of the Ukrainian culture, those dancers were generically called "Russian dancers" in France because at that time the majority of Ukraine was still part of the Russian empire and the Tsar Alexander II had carried out a policy of Russification throughout the empire. Degas himself (mistakenly) titled a series of works with this name, and his titles remained, although he respected the Ukrainians for retaining their culture and traditions despite centuries of repression.
In the physical display there was a text panel with this additional information. The pastel is not in Getty's collections.
—Department of Drawings, J. Paul Getty Museum, spring 2022