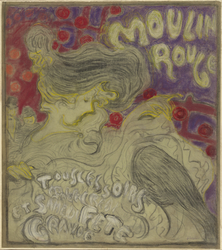 Not currently on view
Medium:
Pastel and charcoal on paper
Dimensions:
54.6 × 48.7 cm (21 1/2 × 19 3/16 in.)
Copyright:
© 2015 Artists Rights Society (ARS), New York / ADAGP, Paris
Pressed tight against the picture plane, a young woman wearing a large hat lifts her billowing underskirts. With her foreshortened, black-stockinged leg raised to the height of her shoulders, she performs the famous chahut, a popular dance of Paris's renowned nightclubs. Neon yellow pastel outlines her delicate profile, hair, and hands, evoking the glow of stage lights. The viewer looks into her petticoat to read--as if part of the swirling lace--the words Tous les soirs Mercredi Et Samedi Grande Fete (Every night/Big Party on Wednesdays and Saturdays) highlighted in white pastel. Behind her shoulders, male members of the audience watch from the left.

The background pulsates with color and movement: silhouetted against a purple ground, the words Moulin Rouge (Red Mill) in greenish pastel seem to expand outward toward the crossed red lines decorated with peach-colored balls, which indicate the illuminated blades of the windmill. This emblem decorated the facade of the brassiest nightclub in Montmarte, the Moulin Rouge; Pierre Bonnard made this highly worked pastel drawing as a finished study for a poster advertising the club.
-
Pierre Bonnard, French, 1867 - 1947, estate of the artist
-
Wildenstein & Co. (New York)
Paris, Capitale des Arts (April 28 to July 14, 1989) (catalogue by S. Azias de Turenne)
Didier Imbert Fine Art S.A. (Neuchâtel), April 28 to July 14, 1989
Recent Additions to the Drawings Collection (August 3 to October 1, 1999)
The J. Paul Getty Museum at the Getty Center (Los Angeles), August 3 to October 1, 1999
To Create a Living Art: 19th Century Drawings (May 1 to July 15, 2001)
The J. Paul Getty Museum at the Getty Center (Los Angeles), May 1 to July 15, 2001
Defining Modernity: European Drawings 1800-1900 (June 5 to September 9, 2007)
The J. Paul Getty Museum at the Getty Center (Los Angeles), June 5 to September 9, 2007
A Light Touch: Exploring Humor in Drawing (September 23 to December 7, 2008)
The J. Paul Getty Museum at the Getty Center (Los Angeles), September 23 to December 7, 2008
Degas: Russian Dancers and the Art of Pastel (May 19 to October 11, 2015)
The J. Paul Getty Museum at the Getty Center (Los Angeles), May 19 to October 11, 2015
---