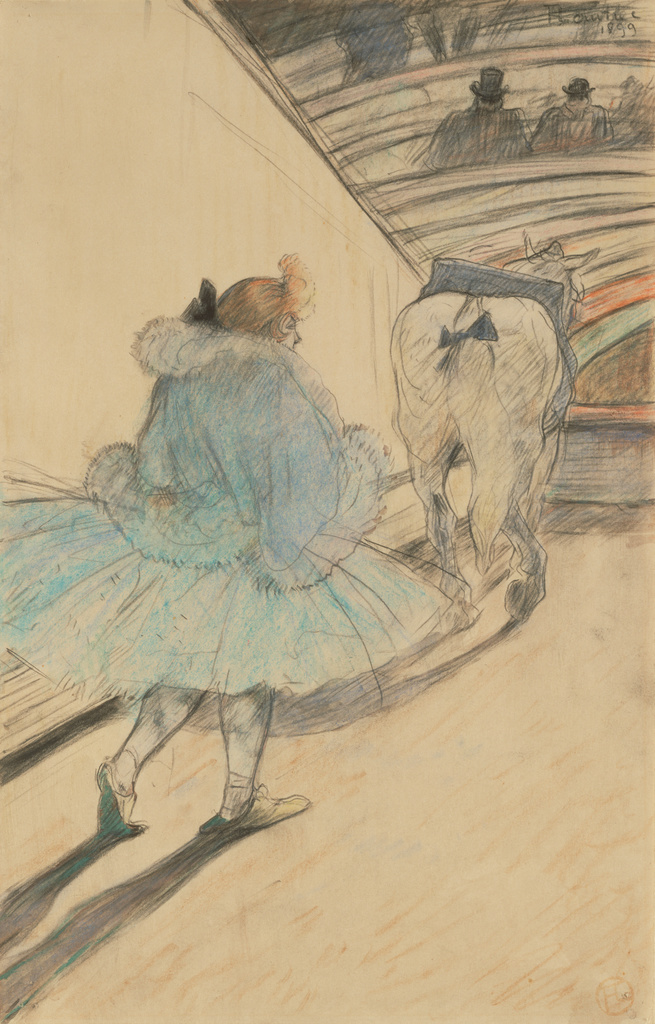 Open Content images tend to be large in file-size. To avoid potential data charges from your carrier, we recommend making sure your device is connected to a Wi-Fi network before downloading.
Not currently on view
Title:
Au cirque: Entrèe en piste
Dimensions:
31 × 20 cm (12 3/16 × 7 7/8 in.)
In a letter dated March 1899, an English poet wrote: "Toulouse-Lautrec you will be sorry to hear was taken to a lunatic asylum yesterday." The scandal was in fact highly publicized. By the time Henri de Toulouse-Lautrec was thirty-five, he was suffering from alcoholism and dementia, most likely brought on by syphilis. His behavior was unpredictable, and often violent. Desperate, his mother had him committed to a clinic, then known as an asylum, outside of Paris.

While in the clinic, Toulouse-Lautrec set upon the idea of creating a series of circus drawings to demonstrate his emotional stability and thus secure his release. Drawn from memories culled over many years of attendance at this popular entertainment, these works reveal his acute observation of horses, dogs, acrobats, clowns, and bareback riders. In this image, a performer still wearing her slippers follows a lumpy horse into the arena to perform for the spectators in the stands. Toulouse-Lautrec elongated the shadows behind the slippers to emphasize the woman's fatigue. Upon being released from the clinic after only three months, Toulouse-Lautrec declared: "I bought my freedom with my drawings."
by 1931
M. Knoedler & Co. (New York), 1846 - 2011
H. de Toulouse-Lautrec (April 9 to May 17, 1931)
Musée des Arts Décoratifs (Paris), April 9 to May 17, 1931
The Circus by Toulouse-Lautrec (November 30 to December 12, 1931)
Knoedler & Company (New York), November 30 to December 12, 1931
Toulouse-Lautrec: Paintings, Drawings, Posters and Lithographs (March 20 to May 6, 1956)
The Museum of Modern Art (New York), March 20 to May 6, 1956
To Create a Living Art: 19th Century Drawings (May 1 to July 15, 2001)
The J. Paul Getty Museum at the Getty Center (Los Angeles), May 1 to July 15, 2001
Toulouse-Lautrec and Montmartre (March 20 to October 10, 2005) (catalogue by R. Thomson, P. D. Cate and M. W. Chapin)
National Gallery of Art (Washington, D.C.), March 20 to June 12, 2005
The Art Institute of Chicago, July 16 to October 10, 2005
Defining Modernity: European Drawings 1800-1900 (June 5 to September 9, 2007)
The J. Paul Getty Museum at the Getty Center (Los Angeles), June 5 to September 9, 2007
Henri de Toulouse-Lautrec - The Path to Modernism (October 16, 2014 to January 25, 2015)
Das Neue Kunstforum der Bank Austria (Vienna), October 16, 2014 to January 25, 2015
Degas: Russian Dancers and the Art of Pastel (May 19 to October 11, 2015)
The J. Paul Getty Museum at the Getty Center (Los Angeles), May 19 to October 11, 2015
Picasso / Lautrec (October 17, 2017 to January 21, 2018)
Museo Thyssen-Bornemisza (Madrid), October 17, 2017 to January 21, 2018
Education Resource

Subjects

Grades

Format

What Can Art Tell Us about Ourselves?

Lesson in which students compare vocations in 19th-century French artworks with those they might encounter in 21st-century Los Angeles.

Visual Arts; English–Language Arts; History–Social Science

9-12

Three/Five-Part Lesson
---