Canterbury and St. Albans:
Treasures from Church and Cloister
This premier Getty Center exhibition celebrates two rare masterpieces of English medieval art: stained glass from Canterbury Cathedral and pages from the St. Albans Psalter, an illuminated book of psalms.

Uniting the intimate art of book illumination with monumental glass painting, this exhibition explores how specific texts, prayers, and environments shaped medieval viewers' understanding of pictures in the era of artistic renewal following the Norman Conquest of England. Life-size paintings on glass depict the ancestors of Christ, and richly ornamented illuminations translate biblical texts into luminous pictures.

The panels of glass have been temporarily de-installed and pages from the St. Albans Psalter, unbound—allowing visitors to experience these works at a proximity enjoyed by few in their long and storied histories. The windows would have been visible to monks sitting in the communal space of the cathedral's choir, and the psalter was meant to be held in one's hands as an object of personal devotion.

The early 12th-century manuscript's graceful, powerfully drawn figures and saturated colors mark the arrival of the Romanesque style of painting in England. The windows from Canterbury, made toward the end of the century, represent this style at its apex and are the finest examples of English Romanesque glass that survive.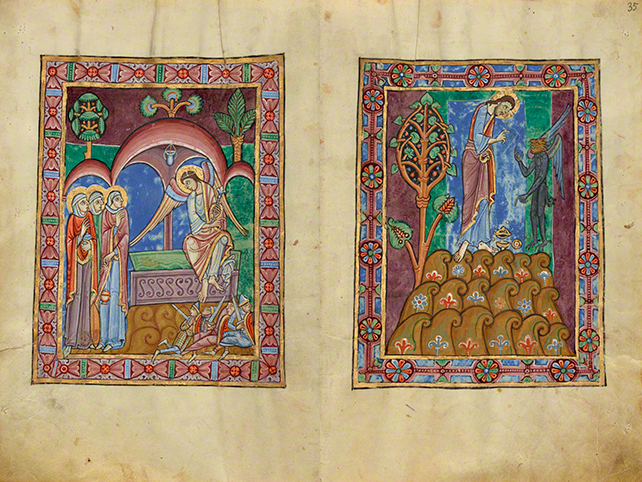 In this example of an unbound bifolium or parchment sheet from the psalter, two full-page illuminations—one showing the three Maries at Christ's tomb and the other representing the devil tempting Christ—are part of a picture cycle depicting moments from the life and Passion of Christ. The painted pages function as a symbolic bridge to the psalm texts that follow, underscoring the medieval Christian belief that Old Testament prophecy was fulfilled in Christ.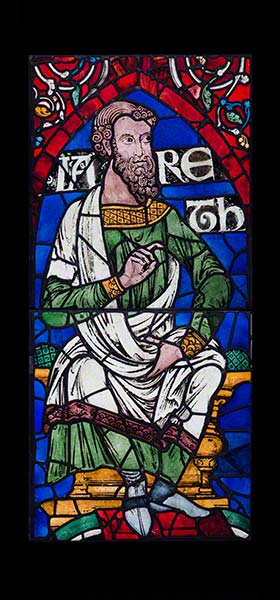 Jared, one of the most striking figures in the ensemble of the Ancestors of Christ, is an Old Testament patriarch listed in the Book of Genesis as a descendant of Adam. The expressive lines of his face and individual locks of hair are beautifully rendered through brushstrokes on both sides of the glass.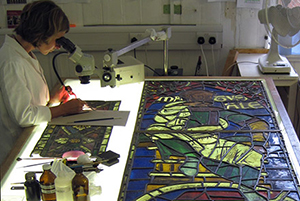 Personal experience is often the springboard for new understanding, as manuscripts curator Kristen Collins reflects during the closing days of Canterbury and St. Albans.
Keep reading...
Image: A look inside the Stained Glass Studio at Canterbury Cathedral. Photo: Kristen Collins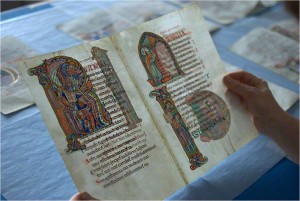 What is it like to live and breathe a single medieval manuscript for one whole year? Kristen Collins describes a manuscripts curator's dream job: studying every page of the luminous St. Albans Psalter, one of the great masterpieces of medieval art.
Keep reading...
Image: A conservator studies the parchment of the St. Albans Psalter. Artwork: Dombibliothek Hildesheim. Photo: Peter Kidd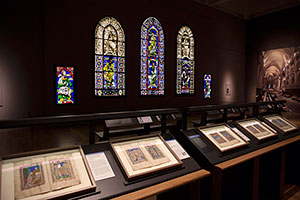 Perfectly angled lecterns and a massive glass wall presented plenty of creative challenges for the designers of the exhibition "Canterbury and St. Albans."
Keep reading...
Image: Canterbury and St. Albans exhibition at the Getty Center. Foreground: St. Albans Psalter, about 1130, Alexis Master. Tempera and gold on parchment. Dombibliothek Hildesheim. Background: Panels from the Ancestors of Christ Windows, Canterbury Cathedral, England, 1178–80. Colored glass and vitreous paint; lead came. Courtesy Dean and Chapter of Canterbury


Canterbury Stained Glass



St. Albans Psalter

Publications




Mobile Tour