---



Preventive Conservation Case Study Project
The Preventive Conservation Case Study Project is a project of The Getty Conservation Institute (GCI). In the first case study the GCI collaborated with the Netherlands Institute for Cultural Heritage (ICN) and Museum Ons' Lieve Heer op Solder ('Our Lord in the Attic'), to investigate the area of tension between opening a historic building to the public and the impact of visitors on the building, its interiors and the collections housed within – with special attention given to the use of the building and its contents in its original function.
The main objectives of this project were:
To analyze the influence of the frequency and number of visitors on the environment of the collection and building, on visitor appreciation of the museum, and on the preservation of important values;
To develop an environmental management strategy that balances climate control, visitation and curatorial requirements to support sustainable access to the museum;
To create a didactic case study that can guide conservation students and professionals in decision-making and strategies for historic house museums.
The project team consisted of: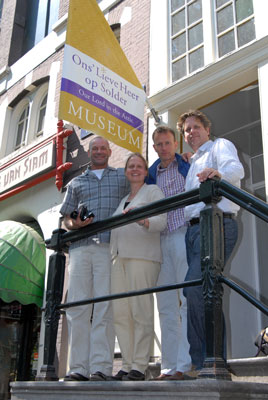 The Getty Conservation Institute
Kathleen Dardes, Head of GCI Education
Shin Maekawa, Senior Scientist, GCI Science
Foekje Boersma, Project Specialist, GCI Education

The Netherlands Institute for Cultural Heritage
Alberto de Tagle, Head of Conservation Science Department
Bart Ankersmit, Conservation Scientist
Agnes Brokerhof, Senior Conservation Scientist

Museum Ons Lieve Heer op Solder (Our Lord in the Attic)
Judikje Kiers, Director
Peter Schoutens, Facility Manager
Robert Schillemans, Curator
Annemiek van Soestbergen, Curator
Thijs Boers, Curator
This web site was created by:
Erin Zolkosky, Web Content Administrator, GCI Communications and Information Resources

With the support of the GCI Field Projects Digital Lab:
Rand Eppich, Senior Project Manager
Emile Askey, Imaging Technician
Aurora Tang, Intern
Acknowledgements
This project is greatly indebted to the following people, who assisted in a variety of ways such as helping to collect data to providing technical support. We are also grateful for the generously sharing of their knowledge:
Henk Schellen - Eindhoven University of Technology, Building Physics and Systems
Edgar Neuhaus - Eindhoven University of Technology, Building Physics and Systems
In August 2006 a multidisciplinary team (the core team) carried out a condition assessment of Museum Our Lord in the Attic. The team consisted of:
Bart Ankersmit – conservation scientist, ICN
Agnes Brokerhof – conservation scientist, ICN
Foekje Boersma – conservator, GCI
Daniel Querido – restoration architect, Werkgroep Restauratie
Jaap van der Burg – senior consultant preventive conservation, Helicon conservation support b.v.
Museum staff involved in the condition assessment included: Judikje Kiers (director), Peter Schoutens (facility manager), Annemiek van Soestbergen (curator), Thijs Boers (curator) and Robert Schillemans (curator). The assessment was recorded by photography and video by Paul Ryan.
On 21 August 2006, the findings of the core team were discussed with a larger 'resource team', which included experts whose knowledge and expertise complemented those of the core team. The resource team consisted of (one or several) curators, building/interior historians, conservators, conservation scientists, and building physicists. We would like to express our thanks to:
Tanja de Boer (Erfgoedinspectie); Agnes Brokerhof (ICN); Frans van Burkom (ICN); Nettie Cassee (Stichting Museaal & Historisch Perspectief Noord-Holland); Ron Kieviets (ICN); Eloy Koldewey (RDMZ); Iris Kost (Helicon conservation support b.v.); Michiel Langeveld (conservator in private practice); Rene Lugtigheid (SKKN); Tessa Luger (ICN); Edgar Neuhaus (TU/e); Marysa Otte (Stichting Gelders Erfgoed); Martijn de Ruijter (Reinwardt Academie); Alberto de Tagle (ICN); Judith Tegelaers (Erfgoedhuis Zuid-Holland); Katrien Timmers (Kasteel de Haar); Bill Wei (ICN); Nico van der Woude (UvA)

The following students from the Reinwardt Academie in Amsterdam assisted in the research during their internship at ICN: Marjolein Versluijs, Annette Cozijn and, Michelle Hogenbrik.
The case study was field tested from 19-24 June 2008 by:
Students from the University of Amsterdam, conservation and restoration:
Nienke Woltman, Merel van Schrojenstein Lantman, Heleen van Driel Heleen, Willianne van der Sar, Julia van den Burg, S. Smulders, Susan Smelt, Saskia Smulders, Catherine Eva Lukasiewicz, Stefanie Litjens, Helbertijn Krudop, Diederick Kits Nieuwenkamp, Ellen Jansen, Janneke Heeres, Sophie Gleerum, Judith Geerts, Femke van der Knaap, Tamar Davidowitz, Laura Buit.
Teacher: Nico van der Woude
Students from the Reinwardt Academie, specialization conservation:
Saskia van Berkel, Marjon Bisschop, Sylvia de Boer, Maartje Bogaard, Giulia Bravo, Sanne Bruin, Menno Dudok van Heel, Diteke Ekema, Patricia Fijneman, Sabine de Groot, Marlous Huisman, Ellen Kokkelink, Olga van der Kooi, Jesse Krol, Erienne Lourens, Moira McDonnald, Bo Naarden, Margriet Oomens, Madelon Ooijevaar, Nelleke Schuurmans, Kirsten Sweers, Wieteke Teunissen, Iris Voskamp.
Teacher: Martijn de Ruijter
© J. Paul Getty Trust / Netherlands Institute for Cultural Heritage / Museum Ons' Lieve Heer op Solder