---
Cross section of the main house and the house at the back.

Floor plans (PDF, 2.1MB)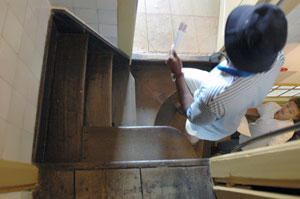 Short, steep, worn stairs lead to this 17th century living room. Located on the first floor and overlooking the canal at the front, it is known as the day room or canal room. It was presumably where the residents spent their time during the day. Living and sleeping quarters were not separate at that time: people slept in box beds.
---
The canal room with the cupboard bed (behind the entrance door)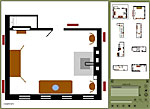 Description of area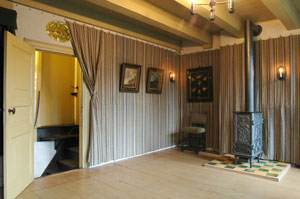 The current shape and size of this room date back to 1663. However, the ceiling is older, dating to an earlier time period in the seventeenth century (around 1620). The floor was originally on the same level as the chaplain's room, but was lowered in 1663 to increase the height of the room, thus creating more spacious living quarters.
The canal room has been restored (1999-2001) to its original 17th century state and has been furnished in the appropriate style. The walls are decorated with textile hangings, which were newly woven based on an authentic piece of textile that survived at the Swedish castle Skokloster, the floor has been painted in a marble pattern and a replica of a 17th century stove completes the scene.
---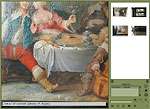 Launch image viewer of cabinet

Collection catalogue (PDF, 5.5MB)

'Description of area' database (PDF, 664KB)

Database area reference key (XLS, 571KB)
Collection on display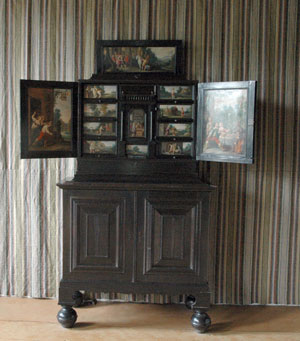 The canal room has a historic interior with a few objects. Paintings (on canvas and on panel) of the period by famous seventeenth-century artists Jacob van Ruisdael and Jan van Goyen adorn the walls. There are several pieces of furniture, a ceramic vase and some metal lamps. The cupboard bed is made up with bed linens.
The center piece in the room is a cabinet that was designed to contain valuable and intriguing objects acquired by collectors, ranging from shells to (precious) stones. The inside panels of this Southern Netherlandish display cabinet were painted by Frans Francken II (1581‑1642) with scenes from the parable of the prodigal son. The Gospel story tells of the son who left his parental home with his half of the inheritance and spent it on riotous living. Reduced to poverty, he realised what he had done, returned and was received with open arms by his good father.
© J. Paul Getty Trust / Netherlands Institute for Cultural Heritage / Museum Ons' Lieve Heer op Solder