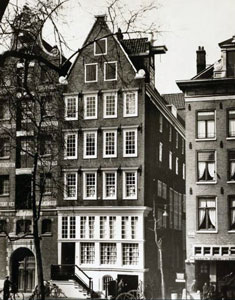 From 1900 until 1953 the humidity ratio indoors would have been very similar to the one outdoors. Incoming air would have been heated: in summer, by solar radiation or by the temperature of the building. It is assumed that the current indoor temperatures during summer are similar to the period 1901–1953. Measurements from the summer of 2005 show that indoor air temperatures never dropped below 17.5 °C.
In wintertime, however, localized heating using fireplaces and stoves would have been used to provide human comfort. However, to estimate indoor temperatures with this kind of heating is complicated. Therefore, indoor climate data, collected by the Netherlands Institute for Cultural Heritage (ICN) in two other unheated Dutch buildings were examined. Both the data from the 'Gevangenpoort' (a prison tower, dating from around 1370) in The Hague and 'Kasteel Amerongen' (a brick castle, dating back to 1680) suggest that indoor temperatures in winter would never drop below 8 °C. These findings are in accordance with data provided by a study of indoor temperatures in January in the UK that indicate a variation from 4 to 13 °C in a non-heated library (Taylor, Joel; Blades, Nigel; Cassar, May; Ridley, Ian (2005) Reviewing past environments in a historic house library using building simulation. In: 14th triennial meeting, The Hague, 12-16 September 2005: preprints (ICOM Committee for Conservation). Verger, Isabelle (Editor). James & James (Science Publishers) Ltd.: p. 708-715).
---

Historic indoor climate in sael and canal room (1901 - 1952) (PDF, 159 KB)

Box plot indoor T/RH canal room and sael 1901 (PDF, 49 KB)
Indoor climate in the sael and the canal room
The sael and the canal room respectively contain a fireplace and a stove. It is estimated that the amount of heating of the indoor air depended on the temperature of the outdoor air and that of the building: if the outdoor air temperature was below –5 °C, the room would have been heated more than on a day when the outside temperature was 10 °C.
The following assumptions were made:
There is no difference between night and day operation of the fireplaces and stoves. Since daily average values are used for outdoor temperature and relative humidity (with no distinction between night and day), the amount of heating is also averaged.
The temperature indoors is never below 8 °C: Tmin. indoor > 8 °C
-5 °C < Toutdoor < 0 °C: room heated by 10 °C: 8 °C < Tindoor < 10 °C
0 °C < Toutdoor < 5 °C: room heated by 7.5 °C: 8 °C < Tindoor < 12.5 °C
5 °C < Toutdoor < 10 °C: room heated by 5 °C: 10 °C < Tindoor < 15 °C
Toutdoor > 10 °C: room is not heated: Tindoor = Toutdoor and never < 17.5 °C
The effect of these heating scenarios in Sael and Canal Room is presented in the temperature and relative humidity graphs presented in pdf on the right.
---

Historic indoor climate in church (1901-1953) (PDF, 165 KB)

Box plot indoor T/RH church (1901) (PDF, 50 KB)
Indoor climate in the church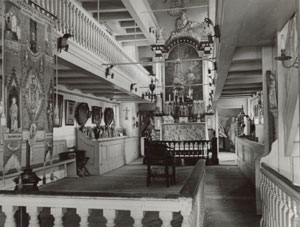 The climate in church would have been different, as it was not heated. During mass, churchgoers would have used small stoves with glowing peat to provide local comfort. The unheated church would have had a temperature that was a result of the temperature of the building and some residual heat from the rooms with fireplaces, stoves and the chimneys. The overall effect of the localized heating in the canal room and sael to the temperature in the church is expected to have been relatively small. Similar to the rooms, the heating of the air in the church depended on the outside temperature. The following assumptions were made:
The indoor temperature difference between night and day can be neglected.
The temperature indoors is never below 8 °C: Tmin. indoor > 8 °C
8 °C < Toutdoor < 9.5 °C: room heated by 0.5 °C: 8.5 °C < Tindoor < 10 °C
Toutdoor > 10 °C: room is not heated: Tindoor = Toutdoor and never < 17.5 °C
© J. Paul Getty Trust / Netherlands Institute for Cultural Heritage / Museum Ons' Lieve Heer op Solder