Pacific Standard Time Performance and Public Art Festival
The Bodacious Buggerrilla: A Reprise Performance and Conversation
Archival Program Information
For current Research Institute events, please see The Getty Event Calendar
Performance and Conversation
Wednesday, January 18, 2012
7:00 p.m.
Harold M. Williams Auditorium
The Getty Center

**This performance will contain content that may be offensive to some viewers.**

Organized by the Getty Research Institute and LA><ART, this provocative evening of performance and conversation will reunite original members of the radical street theater troupe The Bodacious Buggerrilla, which performed around Los Angeles from the 1960s to the early 1980s. This event will feature artists Ed Bereal, Larry Broussard, Bobby Farlice, DaShell Hart, Tendai Jordan, Barbara Lewis, and Alyce Smith-Cooper. The conversation will be moderated by curator Malik Gaines, with Yael Lipschutz and Alexandro Segade.


Established in 1968 in a black studies class at UC Riverside, The Bodacious Buggerrilla began as a street theater group that used the arts as a means for political critique and as a catalyst to inspire social and political change. Active throughout the 1970s, The Bodacious Buggerrilla performed in California's state penitentiaries, on the streets of Watts and Compton, and at annual Watts Summer Festivals with jazz musicians such as Horace Tapscott. It even opened for acts such as comedian Richard Pryor and the Parliament Funkadelic. The Bodacious Buggerrilla also held political education classes and established a model farm site outside of Los Angeles to teach the African American community how to grow food.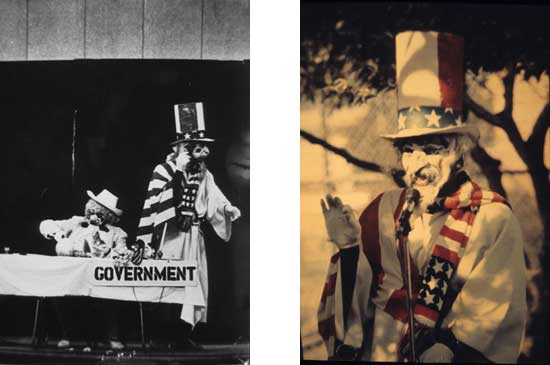 About the group, founding member Ed Bereal recalled,
For the mainstream, straight art world and for the world of performance art, if they had known about The Bodacious Buggerrilla, it would have been like experiencing a "scream," "a field holler" from a chain gang, disquieting, alien, and insistent. It would have, in fact, been a cry for fundamental change. Bodacious didn't come out of the whitewashed artist studios, the galleries or the museums of the art world, it was a creation of day laborers, students, janitors, and single-parent mothers. Bodacious came out of the back alleys, the jazz joints, and the rituals of the black church. It came out onto the street, and when it came, Bodacious came "hard." It was loud, raucous, raw, and irreverent. It was black guerrilla theater, performance, and radical farce. It was angry, compassionate, loving, and hopeful all rolled into one. It was Screaming Jay Hawkins, John Coltrane, "my man Miles," and "Brother" Malcolm. It was surreal, sarcastic, and funky. We are talking about The Bodacious Buggerrilla who used grotesque caricatures of "Big Government," "Big Business," "Uncle Tom," and the LAPD to examine, critique, and expose the political corruption and atrocities of our time.


| | |
| --- | --- |
| | |
| | |
Los Angeles was a key international birthplace of performance art. Engaging the innovative spirit of that period and Los Angeles' vibrant contemporary art scene, the Performance and Public Art Festival will transform Southern California over 11 days (January 19–29, 2012) during Pacific Standard Time: Art in L.A. 1945–1980. Featuring more than 30 major performances and large-scale outdoor projects, the festival will include newly commissioned works, reinventions, and restagings inspired by the radical and trailblazing public and performance works that were created by artists during the Pacific Standard Time era. Performances and projects will be located at institutions and sites throughout Southern California, in close proximity to more than two dozen Pacific Standard Time exhibitions. The festival is organized by the Getty Research Institute and LA><ART; support is provided by the Getty Foundation.


This event is part of a series of conversations, presentations, and performances called Talks about Acts. Developed in 2007 by Malik Gaines and Alexandro Segade at LA><ART, Talks about Acts broadens the evolving dialogue and contemporary discussion around performance practices. For the Pacific Standard Time Performance and Public Art Festival, three remarkable events will continue this evolution: a conversation between artists Barbara T. Smith and Kim Jones on January 17, 2012; this event with artist Ed Bereal and former members of The Bodacious Buggerrilla on January 18, 2012; and a production of Eleanor Antin's classic play Before the Revolution, codirected by Antin herself on the last day of the festival, January 29, 2012. These projects use the frame of Pacific Standard Time to draw attention to crucial developments in performance practices of the 1960s and '70s and to the special character of contributions by California artists.