Modern Art in Los Angeles: Assemblage and Politics
Archival Program Information
For current Research Institute events, please see The Getty Event Calendar
Conversation
Wednesday, November 16, 2011
7:00 p.m.
Harold M. Williams Auditorium
The Getty Center


Los Angeles artists Ed Bereal, Mel Edwards, George Herms, Nancy Reddin Kienholz, and Betye Saar all made assemblage works that reflect on the charged political climate of postwar America. They used found materials to produce complex objects that engaged with issues including the civil rights movement, the war in Vietnam, and the censorship of art. This lively discussion explores how the medium of assemblage sculpture emerged and continues to thrive as a tool of social critique and transformation.

From the early 1960s, when he was included in the controversial War Babies exhibition, Ed Bereal has made assemblage sculptures that address politics and racial stereotypes in the United States and beyond, confronting the viewer with provocative aspects of contemporary history.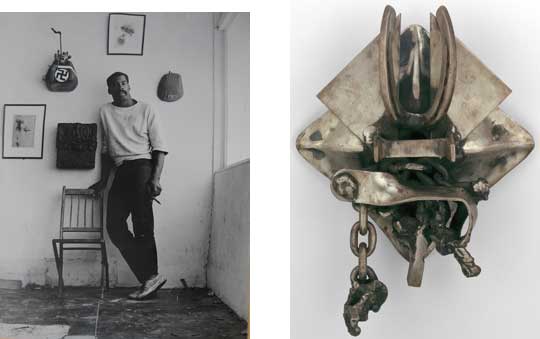 Mel Edwards's important early series of sculptures, the
Lynch Fragments,
are made from welded steel and scrap metal. Fusing the political with the abstract, they evoke the chains of bondage and the oppression of the human body, while also retaining an interest in the materiality of welded sculpture.
From the late 1940s, beat artist George Herms combined found objects to create poetic works of art that combine a lyrical sensibility with an interest in the social and political valence of outmoded objects and discarded materials.
Nancy Reddin Kienholz collaborated with Ed Kienholz from 1972, creating elaborate assemblage tableaux that convey searing social critique. Since Ed's death in 1994, Nancy continues to make works that raise questions about the brutal inhumanity of contemporary society and the vulnerability of human existence.
Inspired by watching the construction of the Watts Towers as a child, Betye Saar began to create poetic assemblage works in the 1960s. These image and objects speak of personal and family history as well as broader themes of cultural and political segregation and the construction of African American history and identity.
The conversation will be moderated by Lucy Bradnock, research associate at the Getty Research Institute.