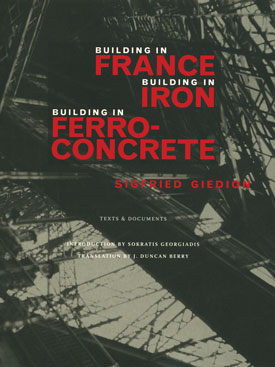 Building in France, Building in Iron, Building in Ferroconcrete
Sigfried Giedion
1995
248 pages
PDF file size: 20.2 MB
Description
With Building in France, Building in Iron, Building in Ferroconcretre (1928)—published now for the first time in English—Sigfried Giedion positioned himself as an eloquent advocate of modern architecture. This was the first book to exalt Le Corbusier as the artistic champion of the new movement. It also spelled out many of the tenets of Modernism that are now regarded as myths, among them the impoverishment of nineteenth-century architectural thinking and practice, the contrasting vigor of engineering innovations, and the notion of Modernism as technologically preordained.
Table of Contents
Preface
Introduction, Sokratis Georgiadis
Building in France, Building in Iron, Building in Ferroconcrete, Sigfried Giedion

Introduction

Construction
Industry
Architecture
Constructor and Architect
Constructors
The Nineteenth Century
The Nineteenth Century in France

Iron

1800–1850 First Attempts
1850–1890 Experimental Architecture

Exhibitions
Exhibitions of World Commerce
Further Development

Ferroconcrete

National Constants
1900–1920 A. G. Perret
1920–1927 Le Corbusier and the Younger Generation
The Current Status of Ferroconcrete

Appendix
Illustration Credits
Sigfried Giedion: A Biographical Sketch
Index
About the Authors
Sigfried Giedion (1888–1968) was a Swiss architecture critic and historian.
Sokratis Georgiadis, formerly curator of the Sigfried Giedion Archive at the Eidgenössische Technische Hochschule, Zurich, is currently professor of architectural and design history at the Staatliche Akademie der Bildenden Künste, Stuttgart. He is the author of Sigfried Giedion: An Intellectual Biography.
J. Duncan Berry has taught art and architectural history at Brown University and the Rhode Island School of Design.