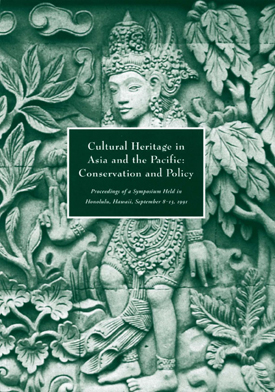 Cultural Heritage in Asia and the Pacific
Margaret Mac Lean, Editor
1993
132 pages
PDF file size: 3.09 MB
Description
This book contains the proceedings of a five-day symposium held in Honolulu, Hawaii, September 1991, sponsored by the U.S. Information Agency, organized by US/ ICOMOS, and designed in consultation with the Getty Conservation Institute, that focused on conservation issues in Asia and the Pacific, with particular attention to policies and conditions specific to the region.

Two keynote papers by international experts explore legal aspects of cultural heritage protection, and management of cultural sites. Three background papers cover the legislation of the 15 nations represented, regional professional training opportunities, and tropical environmental conditions that challenge managers of sites and collections.

The discussion summary includes suggestions for enhancing conservation awareness, legislative action, and policy implementation.
Table of Contents
Foreword
Miguel Angel Corzo
Preface
USIA
Acknowledgments
Terry Morton
Endorsement
Roland Silva
Introduction
Margaret Mac Lean
The Impact of Policy on Cultural Heritage Protection
Lyndel V. Prott
Conservation Policy Delivery
Sharon Sullivan
Legal and Policy Issues in the Protection of Cultural Heritage in South Asia and the Pacific
Cathy Lynne Costin
Issues That Affect Cultural Property, Specifically Objects, in South Asia and the Pacific
Colin Pearson
Building for Conservation: Appropriate Design for Environmental Control in the Tropics
Steve King
The Plenary Session: Summary of the Discussion
Symposium Participants