Typically associated with love, beauty and sex, the Greek goddess Aphrodite was a much more complex figure.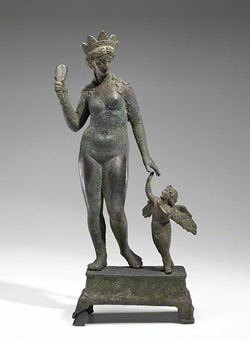 Not only could she be manipulative and destructive in matters of the heart, especially together with her companion Eros, but her domain extended far beyond desire and romance. Worshipped throughout the ancient Mediterranean by men and women, young and old, Aphrodite was connected with maritime affairs, civic harmony, and even warfare.
This exhibition presents the goddess in her manifold aspects—exploring her precursors in the ancient Near East, her offspring, and her devotees—and culminates with her incorporation and adaptation in Roman religion as Venus. It features a stunning range of objects, from large-scale sculpture to delicate jewelry, drawn from the collections of the Museum of Fine Arts, Boston and the J. Paul Getty Museum, as well as major loans from Italian institutions.
Aphrodite and the Gods of Love
was organized by the Museum of Fine Arts, Boston, in association with the J. Paul Getty Museum.

Publication

Related Information