Joya de Cerén, El Salvador: Plan de Manejo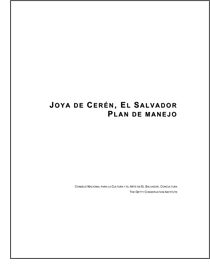 Carolina Castellanos, Françoise Descamps, and Maria Isaura Avauz; 2002
Spanish
Download in sections
Find in WorldCat
The management plan for Joya de Cerén is the result of a collaboration between the Consejo Nacional para la Cultura y las Artes (El Salvador) and the Getty Conservation Institute, as well as the involvement of other institutions and individuals connected to the site and its surroundings.
The plan provides a frame of reference for all actions required to achieve the established long-term vision: the conservation and promotion of the site and its significance as part of human development in the region. Four specific work areas have been defined: research, conservation, landscape, and human development. Given how each project is structured—as well as the physical location of the actions—roles for the private and public sectors will vary. Therefore, mechanisms to facilitate concerted actions by involved stakeholders have also been outlined in the plan. These will, in turn, foster a larger commitment to the conservation of this World Heritage Site.
The management plan for Joya de Cerén is the first in El Salvador for a cultural site and can serve as a model for other projects to be undertaken in the country. It can also serve as an example for other sites in the region, including those inscribed in the World Heritage List. The planning process can be easily adapted to other contexts, thereby contributing to the field of heritage conservation and management at archaeological sites, historic centers preservation, and regional planning.
Nota: El siguientes documento se puede descargar en las siguientes siete secciones:
How to Cite this Work
Castellanos, Carolina, Françoise Descamps, and Ma. Isaura Arauz. 2002. Joya de Cerén, El Salvador plan de manejo. San Salvador; Los Angeles, CA: Consejo Nacional para la Cultura y el Arte de El Salvador, CONCULTURA; Getty Conservation Institute.
http://www.getty.edu/conservation/publications_resources/pdf_publications/joya_eng.html