Chinese Studios

As early as the 1840s, diplomats and missionaries operated daguerreotype cameras in China. One of the first instances was documented by Jules Itier, a French customs inspector who traveled in 1844 to Macao and Canton (Guangzhou), where he noted that Chinese painters were especially attracted to the new technology.
The Cantonese painter Lamqua (Guan Qiaochang, 1801–about 1860) presented Itier with a miniature portrait, painted on ivory and copied from a daguerreotype taken by Itier. Lamqua's portrait does not survive, but the image below at left is a similar painted ivory by Yee Cheong.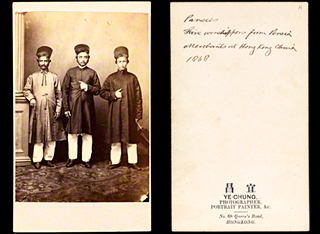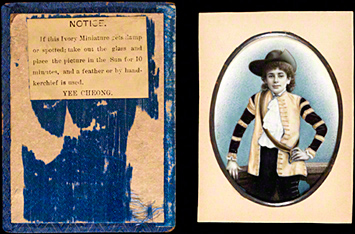 The earliest photo manual in Chinese did not appear until 1873 in Beijing, but the practice of photography had proliferated earlier in southern port cities, where Chinese artists learned the craft from Westerners. Some Chinese artists worked comfortably in both media, such as Yee Cheong, whose portrait on ivory of a young boy in cavalier costume is represented above at left next to one of his small photographic cards, which records his photographic studio on the back.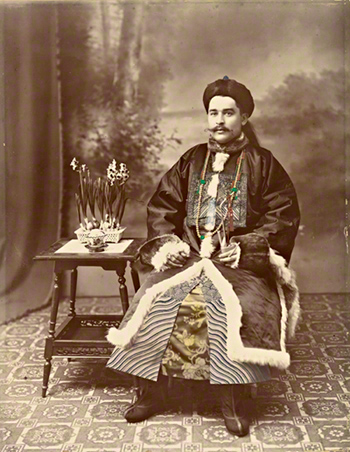 By the 1860s Chinese photographic studios offered their own style of photographic representation, ranging from traditional Chinese settings to painted landscape backdrops. In the image at left, Portrait of a Man in Chinese Costume in Hankou, an adaptation of a Western studio prop can be seen.