Art of Alchemy Lecture and Colloquium
Archival Program Information
For current Research Institute events, please see The Getty Event Calendar
This lecture and colloquium complement the exhibition
The Art of Alchemy
, on view at the Getty Research Institute from October 11, 2016, to February 12, 2017.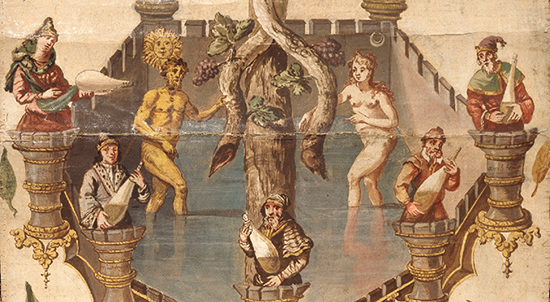 Wednesday, January 18, 2017
7:00 p.m.
Harold M. Williams Auditorium, Getty Center


Among all the arts, it is the art of alchemy which most closely imitates nature
–Albertus Magnus (teacher of St. Thomas Aquinas), ca. 1250

In medieval Europe, alchemy was known as the Great Art; in Islam, it was simply "the Art." David Brafman, associate curator of rare books at the Getty Research Institute and curator of the exhibition The Art of Alchemy, explores this mysterious and misunderstood subject and its influence on artistic practice and expression from antiquity to the present day. From the seeds of its practice in Greco-Egyptian and Chinese antiquity, alchemical knowledge and techniques developed along the medieval "silk routes" of Central Asia, India, and the Middle East. Eventually filtering into Europe, the "Great Art of Alchemy" made an indelible impact on the art, science, and creative culture that flourished in the Renaissance and well into the Enlightenment. Materials invented in alchemical laboratories throughout the world include oil paints, dyes, and inks; cements and ceramic glazing; and dazzling effects in metalwork and glass. The legacy of alchemy persisted through the Industrial Age, yielding the modern media that claim to be the ultimate chemical mirrors of nature: photography and the liquid crystal displays of the digital world.



Thursday, January 19, 2017
10:00 a.m.–5:30 p.m.
Museum Lecture Hall, Getty Center


Alchemists were notorious for attempting to make synthetic gold, but their goals were far more ambitious: to transform and bend nature to the will of an industrious human imagination. For scientists, philosophers, and artists alike, alchemy seemed to hold the key to unlocking the secrets of creation. Alchemists' efforts to discover the way the world is made have had an enduring impact on artistic practice and expression around the globe. This colloquium will explore how the mysterious art of alchemy transformed visual culture from antiquity to the industrial age and the ways in which its legacy still permeates the world we make today.

Confirmed participants:
Gabriele Ferrario, University of Cambridge
Matthew Hunter, McGill University
Karin Leonhard, Universität Konstanz
Stephen Little, Los Angeles County Museum of Art
Matteo Martelli, Berlin-Brandenburgische Akademie der Wissenschaften—Corpus Medicorum
Jörg Völlnagel, Staatliche Museen zu Berlin
David Gordon White, University of California, Santa Barbara